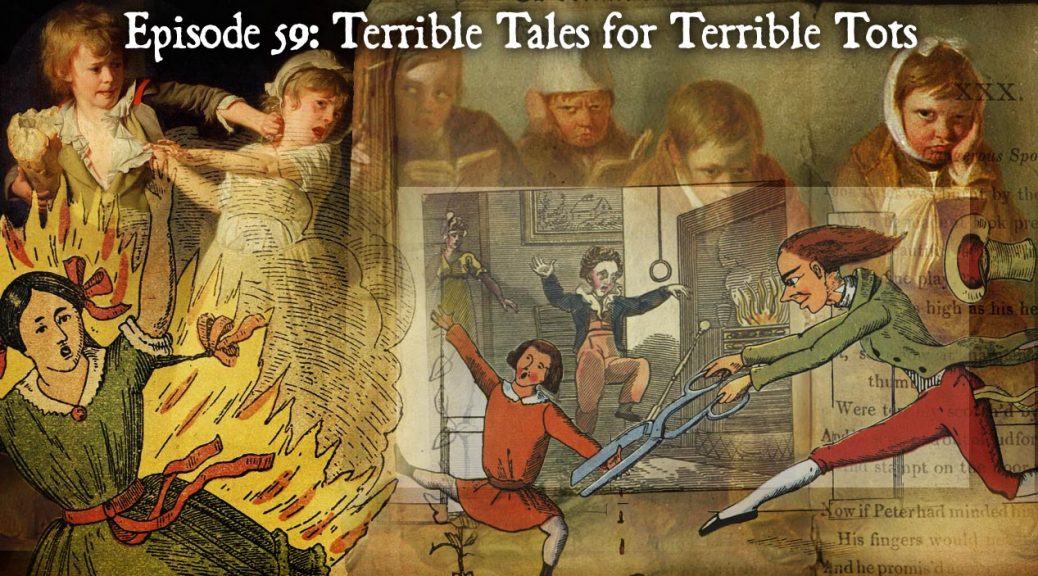 Terrible Tales for Terrible Tots
Terrible Tales for Terrible Tots
Podcast: Play in new window | Download (Duration: 44:42 — 51.2MB)
Subscribe: Apple Podcasts | Google Podcasts | Spotify | Android | Stitcher | Podchaser | Email | RSS | More
Books of cautionary stories for children were a popular Christmas gift in Victorian times. These tales of misbehaving children and the tragic consequences of their deeds, like the Krampus myth, served as not-so subtle reminders of parental expectations.
This episode consists mainly of readings by your host and Mrs. Karswell of these grim (and amusing) stories intended to be enjoyed along with a hot cup of cocoa, eggnog or the more dangerous adult concoctions of the season.
We begin with an example from Jane & Ann Taylor's 1800 publication Original Poems for Infant Minds.  The Taylor sisters' 1806 sequel to the book, Rhymes for the Nursery, happened to include a poem called "The Star," providing the lyric to the "Twinkle, Twinkle Little Star," which we hear interpreted from a 2019 album called, naturally, Possessed Children: Creepy Nursery Rhymes.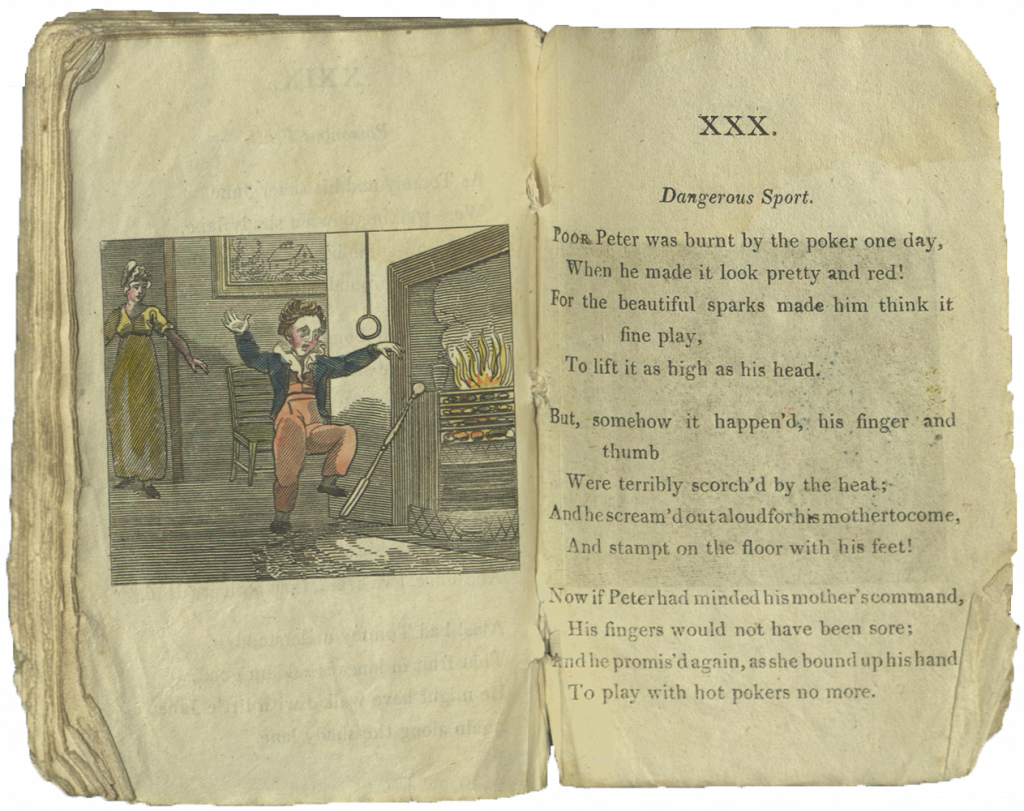 We also hear a poem about a lad who embraces a hot poker as a toy, one from Elizabeth Turner's 1807 collection The Daisy or, Cautionary Stories in Verse, adapted to Ideas of Children from Four to Eight Years Old.  
Then we turn to the mother of all cautionary tales for children, known to many simply as "that scary German children's book," but actually titled Der Struwwelpeter, Merry Tales and Funny Pictures for Good Little Folks. Written in 1854 by Heinrich Hoffmann, Der Struwwelpeter ("un-groomed Peter") pairs charmingly awkward drawings executed by the writer himself with tales of children who play with matches, refuse to eat, suck their thumbs, torment animals, or commit other childish misdemeanors meet ghastly fates. 
Created for Hoffmann's three-year old son as a Christmas gift, Der Struwwelpeter's opening page identifies the book as one specifically to be given at Christmas, to well-behaved children exclusively.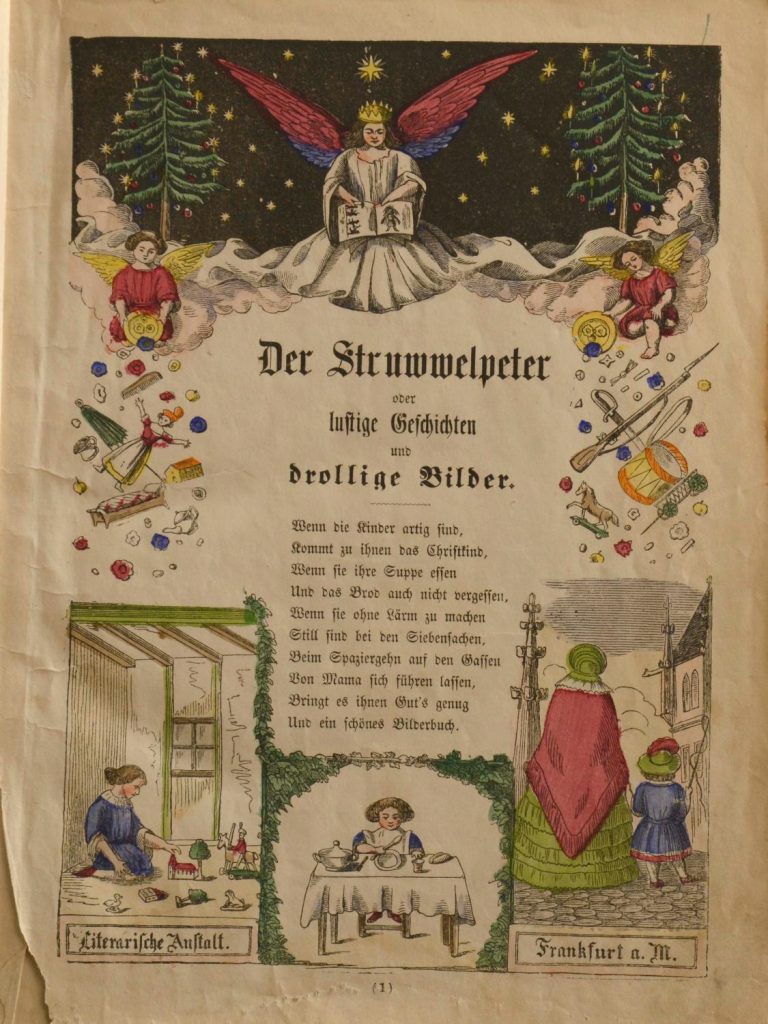 We hear a clip of this introductory poem set to music by the British punk-cabaret artists The Tiger Lillies, as part of their 1998 opera Shockheaded Peter.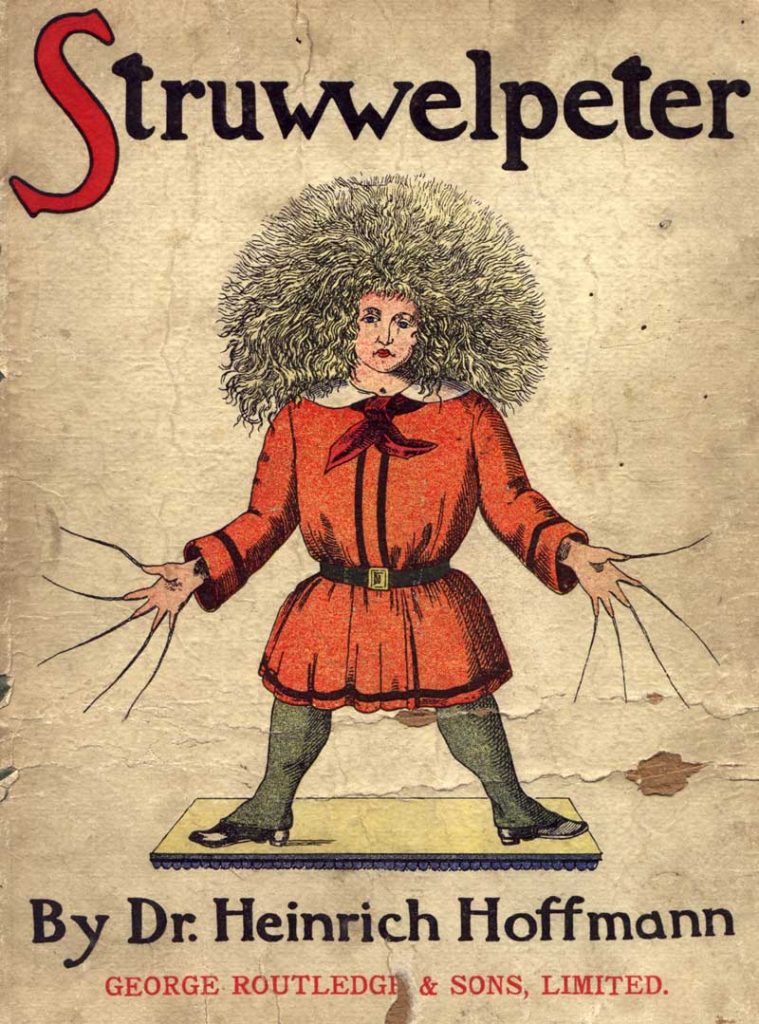 Der Struwwelpeter went on to inspire all manner of imitations in Germany, England, and particularly in America.  We hear a few examples of these including one from the most famous volume inspired by this book, Max and Moritz, A Tale of Seven Boyish Pranks, written and illustrated in 1865 by Wilhelm Busch. 
 Our last author in this genre, one whose intent was actually to exaggerate and parody the pedantic tone of the Victorians was Hilaire Belloc, a friend of H.G. Wells and George Bernard Shaw.  His first book of this type, whimsically illustrated by his friend Basil T. Blackwood, was The Bad Child's Book of Beasts (1896), followed a year later by More Beasts (for Worse Children). Longer, more dreadful stories appear in the verses of his 1907 book, Cautionary Tales for Children, Designed for the Admonition of Children between the ages of eight and fourteen years, from which we hear a number of fine examples.  Edward Gorey recognized a kindred spirit in the collection illustrating a version published posthumously in 2002.