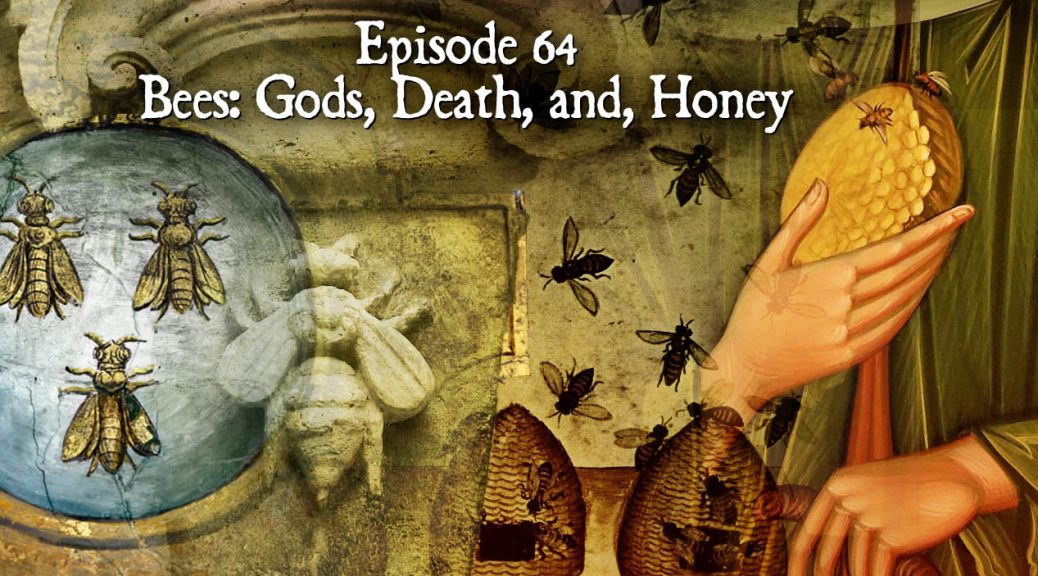 Bees: Gods, Death, and Honey
Podcast: Play in new window | Download (Duration: 53:15 — 60.9MB)
Subscribe: Apple Podcasts | Google Podcasts | Spotify | Android | Stitcher | Podchaser | Email | RSS | More
The mythology of bees has been tied for centuries to notions of the otherworld and death.  In this episode we trace some of that folklore along with examining some highly peculiar uses of honey.
Horror or sci-fi films referencing bees exploit the more mundane fears bee holds for mankind.  Our survey of these includes clips from the dreadful 2006 The Wicker Man remake, Candyman (1992), The Deadly Bees (1967), The Swarm (1978), and Invasion of the Bee Girls (1973). Also included are some snippets of "Not the Bees" remixes by Koolfox, CyberPunkStefan, and KCACopyright.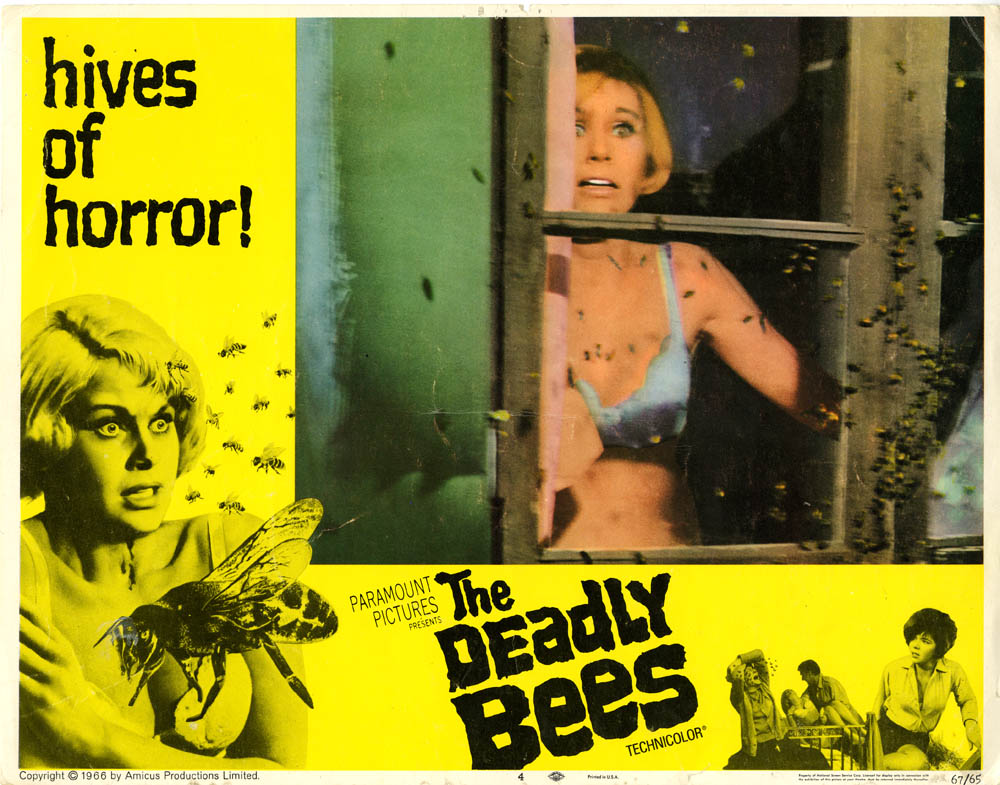 Continuing on (in a sense) from our Medusa episode, there follows a good deal of Greek mythology, thanks to the significant role these creatures played in that culture's imagination, beginning with the bee-nymphs or honey-nymphs who served as nurses to the infant Zeus.  There are a number of triads of female bee creatures in ancient Greek literature, which may or may not be the same.  Along with Zeus' nurses, these include the Thriae, who serve as oracles, and creatures simply dubbed "The Bee Maidens" described in a Homeric "Hymn to Hermes" (who also serve as seers.)  Priestesses of Artemis and Demeter were also dubbed"bee," and some have proposed a connection between the Delphic oracle and bees or honey, as is discussed.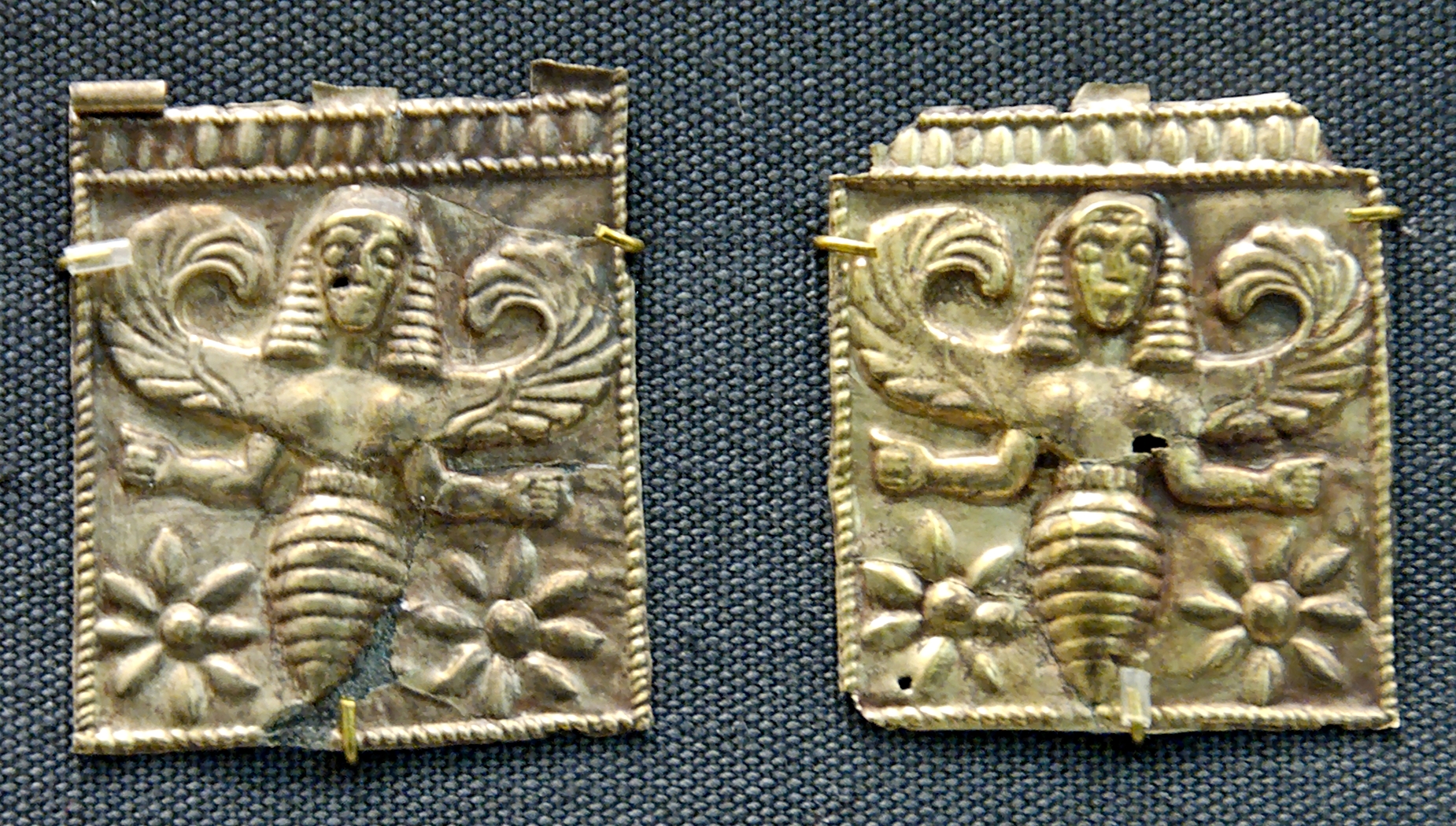 A brief musical interlude follows this: "The Bee Song" by British comedian Arthur Askey.
Our next topic seems to be most prominent in ancient Greek thought but was found elsewhere and persisted into the Middle Ages, namely, the belief that bees were spontaneously generated from the carcasses of oxen.  This superstition, known as "bugonia"  (from the Greek words for "ox" and "spawn") is discussed in passages we hear from Virgil's volume on agricultural lore, Georgica, and from a similar 10th century book of Byzantine creation, Geoponika.  We also hear an example from the Old Testament and learn a a related and unseemly lesson about a honey-like product found in many British households. And there's a poem by Kipling, "The Flies and the Bees" from which Mrs. Karswell reads a relevant excerpt.
Human corpses (if they happen to be a priestess of Demeter) can also generate bees, according to a passage from Virgil's Aeneid, which we hear. And there is a story of a skull filled with honeycomb from Herodotus' Persian Wars, one somehow similar to a report from an 1832 edition of the Belfast News Letter, which is gratuitously included merely for the grotesque image it presents.
Next we look at the ancient practice of preserving human bodies in honey.  The case of Alexander the Great is described along with a number of examples from Sparta (including a honey-preserved head, which advised King Cleomenes I.  And there's a particularly repulsive story of Mariamne, the wife of  King Herod, who was thus preserved.
We then examine more wholesome stories of bees —  their exemplary reputation for cooperation and industry, which served many writers as a model for human society.  Also wholesome are a few inlcuded Christian legends involving bees. We hear of 5th century French prelate St. Medard, whose bees punished the thief attempting to steal a hive from the saint's apiary, and of the 6th-century Irish saint St. Gobnait, who commanded an army of bees against hostile forces threatening her community.  Also included are some pious legends of architecturally ingenious bees related in Charles Butler's The Feminine Monarchie from 1632.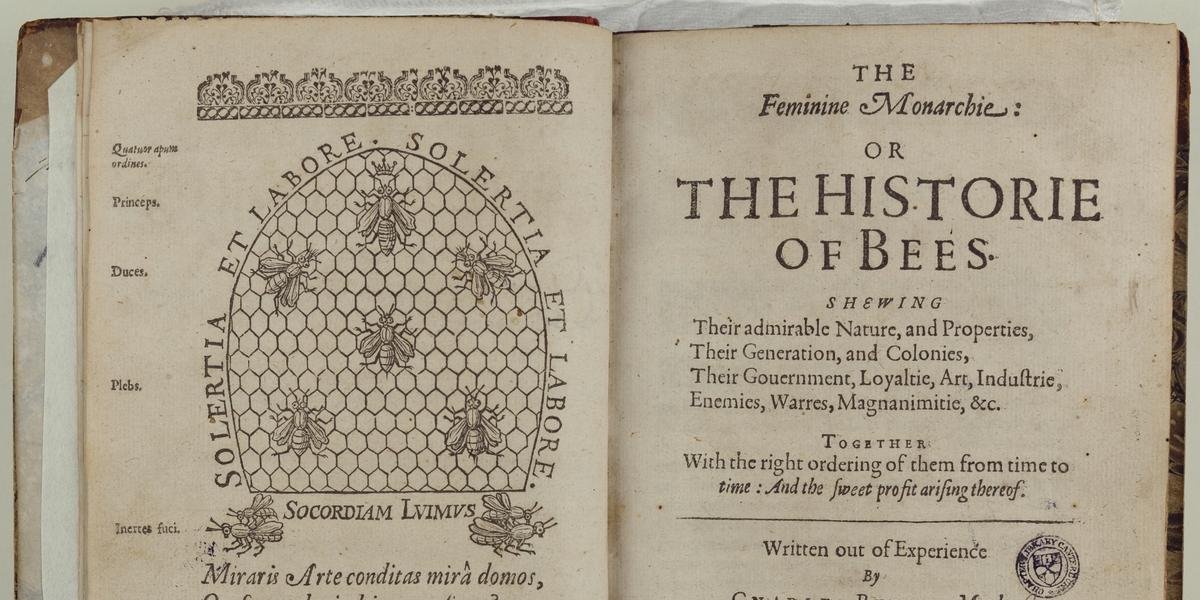 Next, the "telling of the bees" is discussed, that is, a custom whereby those who kept hives would announce the death of a family members to their bees so they might participate symbolically in the mourning process.  Also included are a number of newspaper stories of bees that seemed more than eager to participate in funerals.
We wrap up with a look at "mad honey," a psychoactive type of honey, the effects of which are produced by a compounds called grayanotoxin found in certain plants (the rhododendron, azalea and oleander) from which bees have gathered nectar.  Caveat emptor!