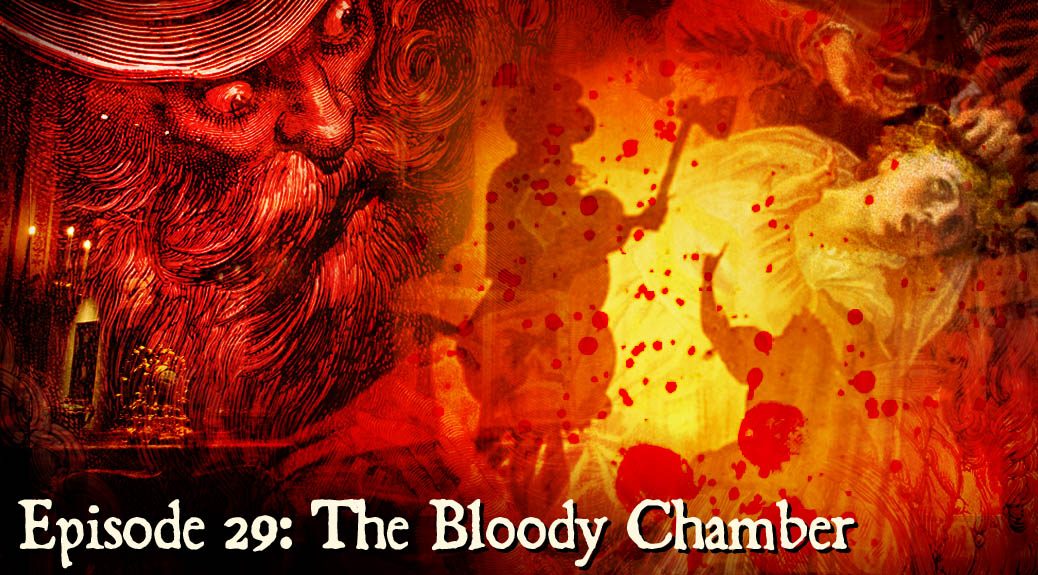 Podcast: Play in new window | Download (Duration: 43:20 — 39.7MB)
Subscribe: Apple Podcasts | Google Podcasts | Spotify | Android | Stitcher | Podchaser | Email | RSS | More
Bluebeard and his bloody chamber full of murderous secrets is widely known as one of Charles Perrault's fairy tales, but it's part of a larger family of folk tales and ballads we examine in this episode.
Our show begins with a brief summary of this tale in which a young woman is courted by the mysterious and strangely whiskered nobleman, Bluebeard.  After lavishly entertaining the woman and her family in his castle,  it's agreed they should marry.  Soon thereafter, Bluebeard departs on a journey leaving his bride keys to all the rooms of his estate, all of which to which may use —  but one.  Curiosity, however, getting the better of her, she unlocks the forbidden door and must face Bluebeard's murderous rage at her disobedience.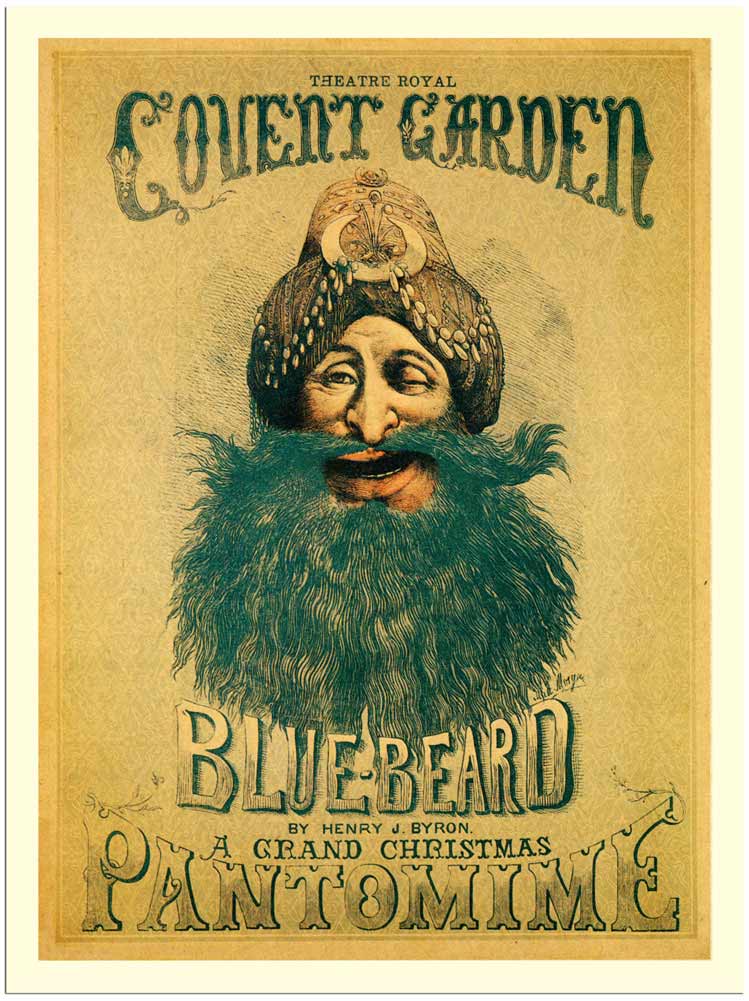 Perrault's 1697 story, which draws upon older folk tales, is primarily known thanks to its inclusion in collections of fairy tales intended for children.  Today, however, you're unlikely to find the gruesome yarn anthologized for younger readers.  If included at all, it may be sanitized, as it was in the 1970 children's record from which we excerpted a clip at the show's open.
Along with fairy tale collections and cheaply printed chapbooks, the Bluebeard story was largely preserved through theatrical representation.  We look at a number of productions from the late 18th and early 19th century that treated the story in a semi-comic or melodramatic fashion, often combining elements of the Italian Commedia dell'arte, such as Harlequin and his antics.  Wilkinson provides of some readings of the comedic dialogue as well as stage directions which often made the "bloody chamber" a lavishly designed and spooky centerpiece of the production.
Particularly important to how were think of Bluebeard today is the 1798 production Blue Beard, or Female Curiosity!, which moved the story to Turkey in order to exploit a growing fascination with the East.  This image of Bluebeard and indeed its importance in the English-language repertoire is suggested by the inclusion of the play in the 1993 Jane Campion film, The Piano, a story set during this period.  The theatrical tradition of representing Bluebeard's wives as bloody heads severed from their bodies is demonstrated in this scene as well as many 19th-century photographs of such stagings.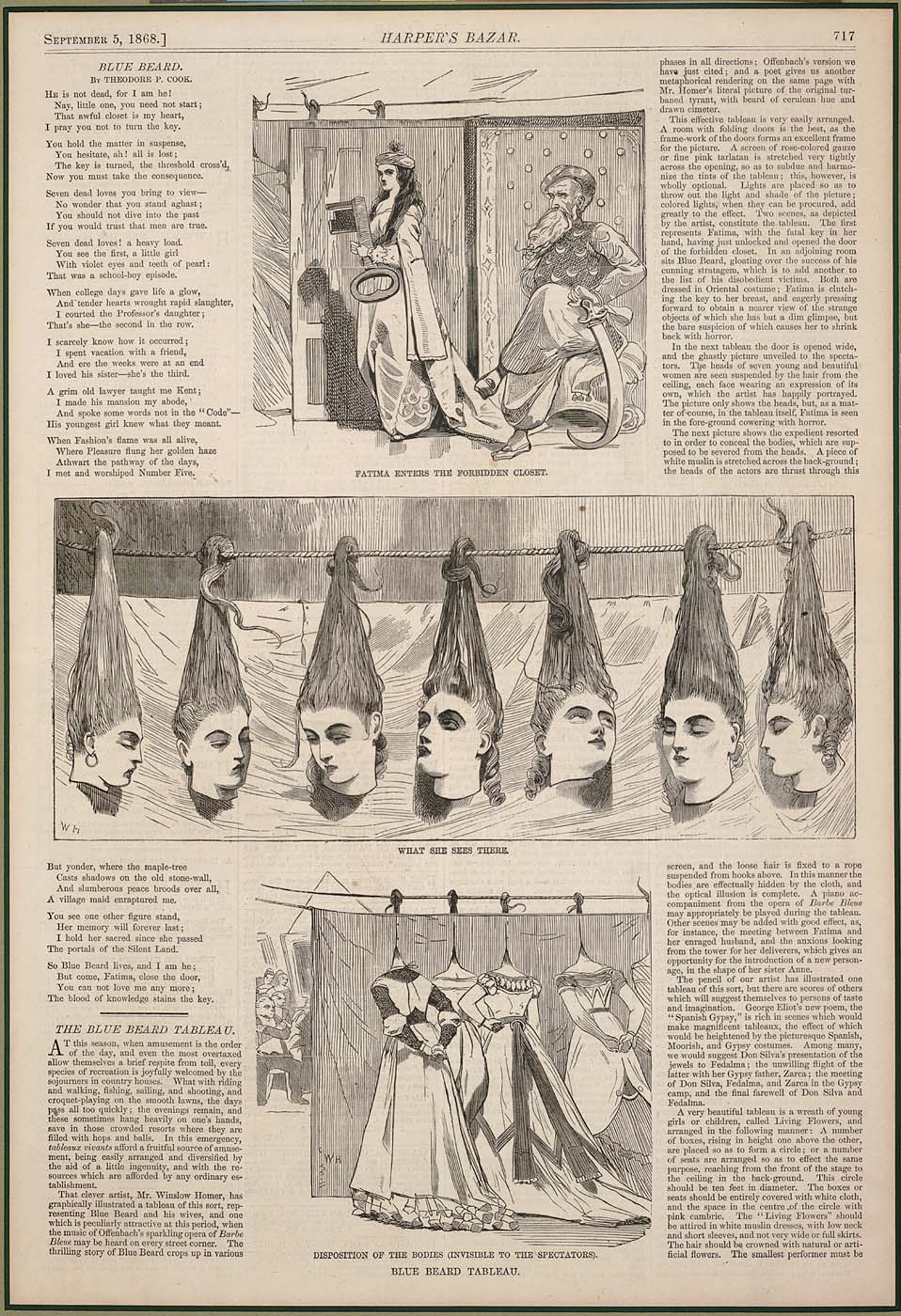 Also discussed is 1 1903 Christmas staging of Mr. Bluebeard in Chicago, famous not so much for its musical numbers (such as the song "Raving," which we hear excerpted) but more for a landmark fire, which claimed the lives of 602 theater-goers.
While there have been dozens of films that play with the theme of women marrying men with mysteriously deceased wives, only a few have directly addressed the tale.  We very briefly discuss the 1944 Bluebeard with John Carradine, the 1972 Bluebeard with Richard Burton, and the 2009 French film, Barbe-Bleue (Bluebeard), which is the most traditional of the lot.
In the next part of our show, we look at related folktales including the Grimm's story "Fitcher's Bird," which features bloody chambers that must not be opened, a skull dressed as a bride, a woman rolling in honey and feathers, and a wedding that's diverted into an execution party.  We also look at the English tale "Mr. Fox," in which a woman spying on her bridegroom discovers his habit
The Grimms also gave us "The Robber Bridegroom," in which a bride-to-be visits her intended's home "out in the dark forest," where she makes unnerving discovery similar to that in Mr. Fox (but with an added element of grisly horror thrown in).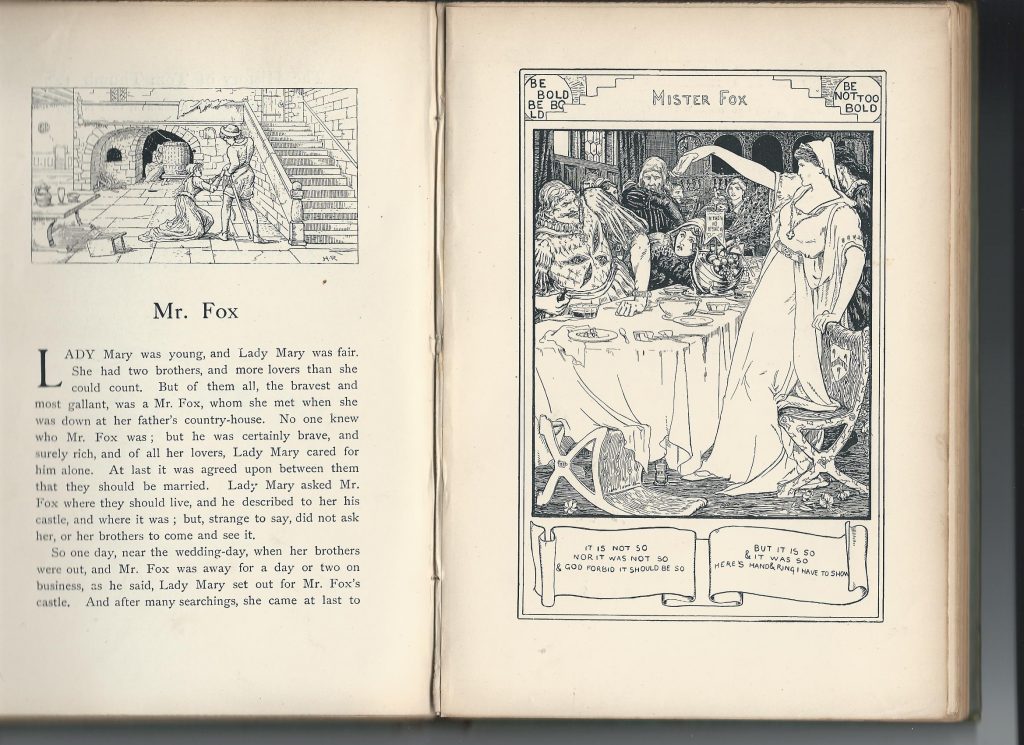 As a sort of musical tonic to all these tales of women and the bloody chambers they might end up in, we close the show with two traditional ballads in which the woman more satisfyingly gains the upper hand, and ends up slaying the serial killer she is to wed.  The frist of these, is a Dutch ballad  "Lord Halewijn" and the second "Lady Isobel and the Outlandish (or "Elf") Knight."
We close with a peculiar tidbit from modern life, a weird parallel between ancient folk ballads and a true-crime oddity.