Rick Galiher, the Voice of Wilkinson
Rick Galiher, the Voice of Wilkinson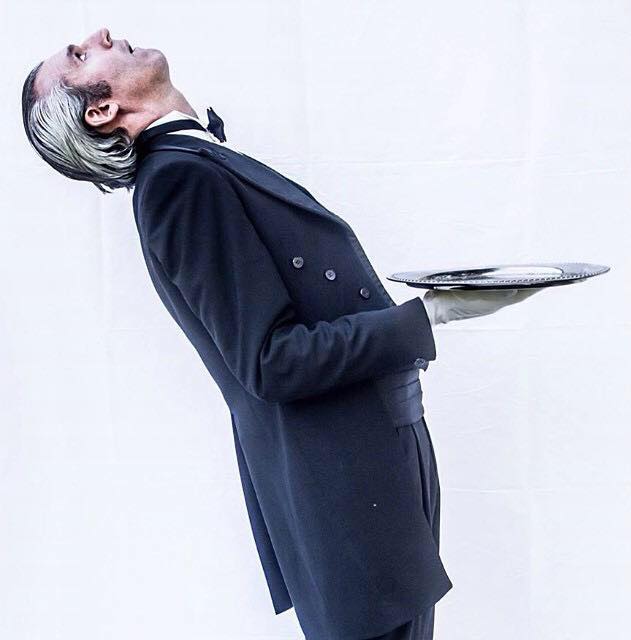 Actor, artists' model, and performance artist Rick Galiher serves as the voice of the ever patient Wilkinson the Butler.
Galiher is a well known figure in Southern California horror circles thanks to his many years of appearing at conventions, screenings, parties, and gallery events costumed as horror-oriented characters such as RIP the Undertaker, a figure he developed with "Painter of The Dark," Chet Zar and the costuming assistance of Junker Designs.
Galiher's involvement with the horror community springs in part from his work modeling for SFX makeup artists and animators, including those at Disney where he is currently employed as a life-drawing model.
The figure of Wilkinson the Butler actually predates "Bone and Sickle" as a character of Galiher's own invention, used — like RIP the Undertaker – in public appearances and improvisations as well as a series of short videos.
Galiher's association with Ridenour began in 2015 when he was recruited to appear as St. Nicholas, traditional master of the Krampuses at LA's annual Krampus events.  Appearing in ecclesiastic robes of a bishop, Galiher is a beloved fixture at the seasonal festivities, dutifully keeping his Krampuses in check at the Krampuslauf, admonishing and rewarding naughty and nice, and reciting rhymed dialogue from an authentic 19th-century script in the old Austrian Krampus play produced and directed by Ridenour.
Galiher's film work includes the film Tales of Halloween (2015) and the 2016 Cannes Short Film Corner film, Titanium, in which Galiher portrays a sleazy mechanic. His television appearances include roles on Shaun Cassidy's American Gothic, as well as Hellevator, Storage Wars, and Vanderpump Rule.