Patreon Raffle: All The Haunts be Ours
Patreon Raffle: All The Haunts be Ours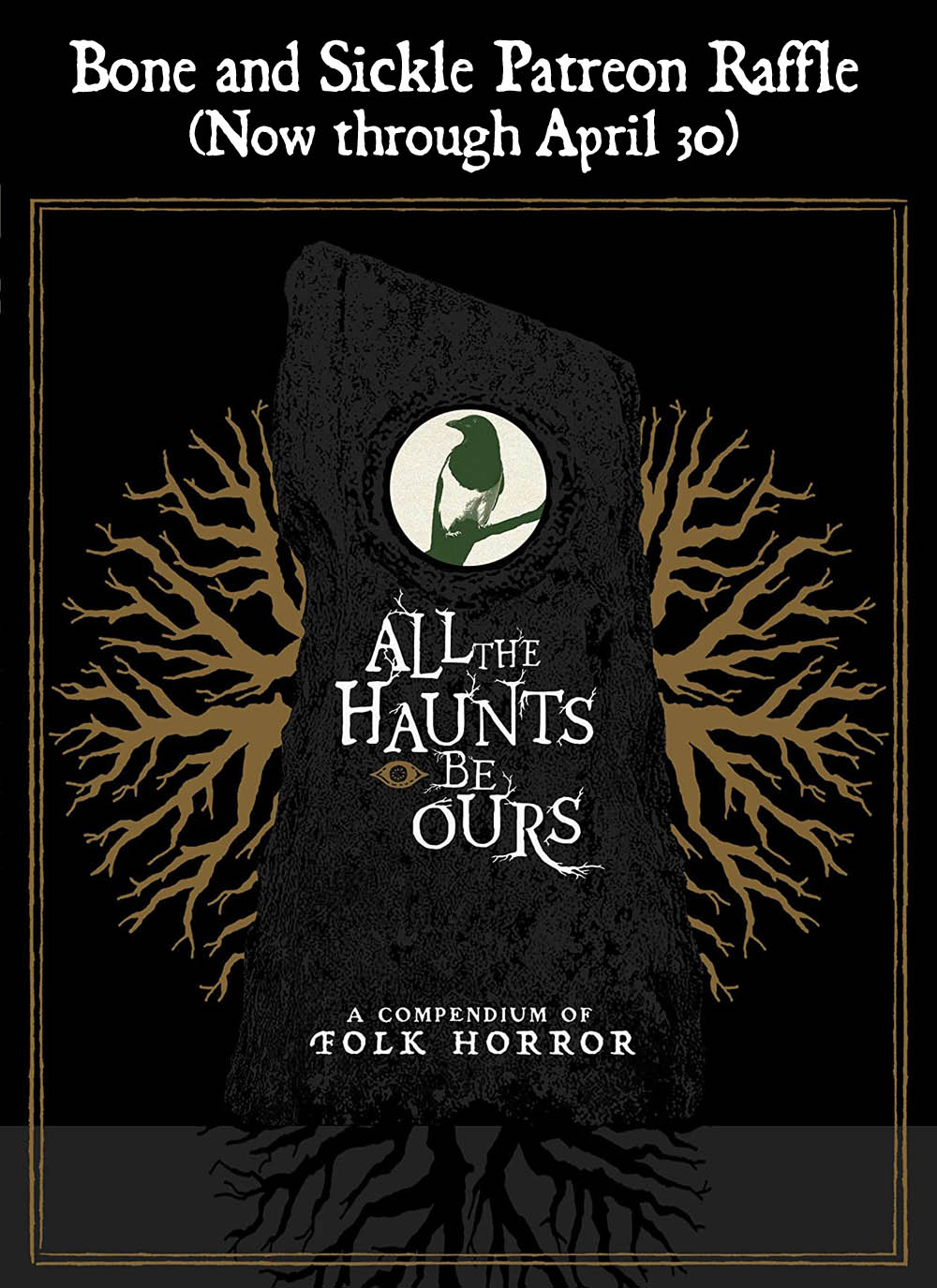 We have a special offer running from now until April 30, a chance to win the 15-disc set, All The Haunts Be Ours: A Compendium Of Folk Horror.  It's a splendid collection released in conjunction with the Folk Horror documentary Woodland Dark and Days Bewitched, which is one of the included discs.  Not only does it include over 31 hours of folk-horror films on BlueRay, but also 3 CDs including a reading of a classic Arthur Machen story and a 156-page book on the folk-horror genre.
BONE AND SICKLE PATREON LINK:
https://www.patreon.com/boneandsickle
ELGIBILITY:
The value of the collection is $279 and a randomly chosen subscriber at the $4 monthly level or above will be announced on May 1.
To enter, you must subscribe on the once-yearly plan, which actually saves 15% on what you would otherwise pay monthly.
You will be automatically entered upon signing up as stipulated.
FEATURE FILMS INCLUDED IN THIS SET:
WOODLANDS DARK AND DAYS BEWITCHED (192 mins/1.85:1/English 2.0/CC)
EYES OF FIRE (86 mins/1.85:1/English 1.0/CC)
LEPTIRICA (65 mins/1.33:1/Serbian 1.0/English Subtitles)
WITCHHAMMER (107 mins/2.35:1/Czech 1.0/English Subtitles)
VIY (76 mins/1.33:1/Russian 1.0/English 1.0/English Subtitles)
LAKE OF THE DEAD (77 mins/2.40:1/Norwegian 1.0/English Subtitles)
TILBURY (57 mins/1.33:1/Icelandic 1.0/English Subtitles)
THE DREAMING (90 mins/1.85:1/English 1.0/CC)
KADAICHA (88 mins/1.33:1/English 1.0/CC)
CELIA (103 mins/1.85:1/ English 1.0/CC)
ALISON'S BIRTHDAY (99 mins/1.85:1/ English 1.0/CC)
WILCZYCA (103 mins/1.33:1/Polish 1.0/English Subtitles)
LOKIS: A MANUSCRIPT OF PROFESSOR WITTEMBACH (100 mins/1.66:1/Polish 1.0/English Subtitles)
CLEARCUT (98 mins/2.35:1/English 5.1/English 2.0/CC)
IL DEMONIO (100 mins/1.85:1/Italian 1.0/English Subtitles)
DARK WATERS (89 mins/1.85:1/Italian 2.0/English Subtitles)
A FIELD IN ENGLAND (90 mins/2.35:1/English 5.1/English 2.0/CC)
ANCHORESS (108 mins/1.66:1/English 1.0/CC)
PENDA'S FEN (90 mins/1.33:1/English 1.0/CC)
ROBIN REDBREAST (76 mins/1.33:1/English 1.0/CC)