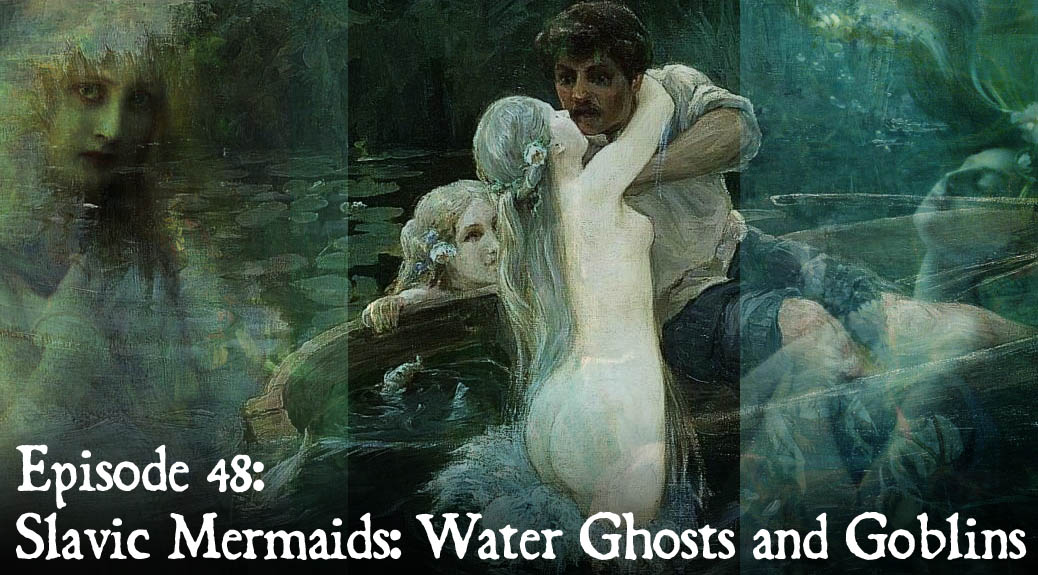 Slavic Mermaids: Water Ghosts and Goblins
Podcast: Play in new window | Download (Duration: 46:08 — 42.2MB)
Subscribe: Apple Podcasts | Google Podcasts | Spotify | Android | Stitcher | Podchaser | Email | RSS | More
Quite distinct from their Western equivalent, Slavic mermaids might better be described as water ghosts, as they are almost always the spirits of departed females, while their male equivalent takes the form of a water goblin or water sprite.  The Russian word for mermaid is rusalka (rusalki pl.) and male creature is a vodyanoy.  Similar words are used in other slavic languages, though the Czech water goblin is known as a vodnik.
The rusalki are found not only found in Russia, Ukraine, and Belarus, but also Poland, the Czech Republic, Slovakia, Serbia, Slovenia, and Bulgaria.  And they're honored with their own holiday, Rusalka Week, just now coming up in early June.
While they are usually active only at night, during Rusalka Week, they emerge in the daylight when they may be seen dancing, singing, or playing usually in groups.  As they lack the fish tail of Western mermaids, they may also venture into forests and fields for such activities, but while in the water, they may also  pull swimmers, fishermen or others near the water to watery deaths. We open the show with a clip from Mermaid: Lake of the Dead, a 2018 Russian horror film about a rusalka, which depicts the creature in this malevolent aspect.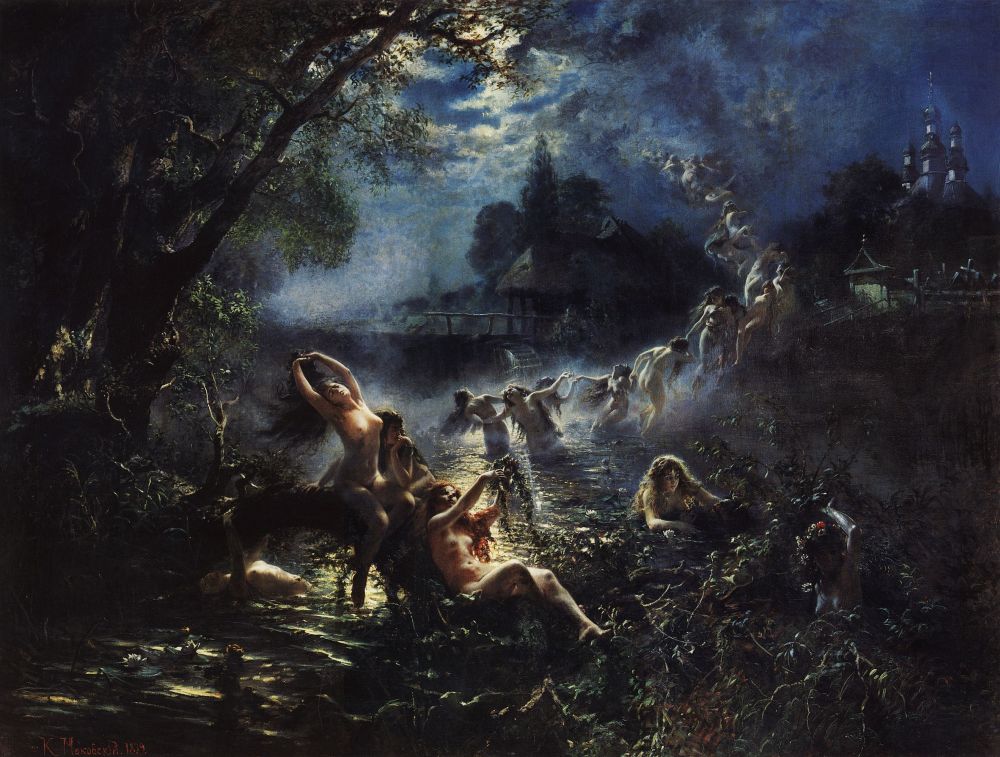 Not just any woman who dies will become a rusalka.  Typically, she would have died by violence, suicide, or sudden accident, particularly drowning.  Often these deaths are related to misfortunes in love, rejection by lovers, or suicides due to unwanted pregnancies.  Because of this, the rusalka is particularly focused on capturing men with no interest in attacking adult females.  Men who fall prey to them are either believed drowned or may live with them in a sort of underwater spirit limbo in their richly appointed palaces of crystal, gold, and silver.  Occasionally, their would-be victims may overcome them by the power of the cross, or in rare cases, they may even be domesticated into mortal life (with varying success).  Mrs. Karswell reads several typical and atypical tales describing the interactions of rusalki and men, ones collected from informants in turn-of-the-century studies by Russian ethnographers
While rusalki are most interested in men, they may sometimes capture girls and boys to be kept as the children they failed to have in life. Infants may also become rusalki if they die unbaptized, and will wander the earth in that form for seven years seeking someone who might free them by performing a christening. After that, like other rusalki, they remain in that undying form until the end of the world.
Prior to the 19th century, it's not clear the rusalki were always regarded as the ghosts of unfortunate females. Instead, they seemed to play some role in connection to fertility.  This is particularly clear in Ukraine, where the rusalki (or creatures nearly the same) are called mavka and a figure called Kostromo is both the center of early spring fertility rites and known the first female to become a mavka. "Mavka" is also the name of under which a contemporary Ukranian musiican performs songs composed, in what she calls "the language of mermaids."  We hear a clip from one of her performances.
Rusalia Week, or Rusalia, is tied to the date of Pentecost or Whitsunday. It's also known as "Green Christmas" or "Green Holiday" as  homes and churches are decorated in greenery, and celebrations take place in birch forests where young women and girls wear crowns woven from flowers and plants.  It takes place either 40 or 50 days after Easter, and the biggest celebrations take place on Semik (from the Russian word for "seven,") the seventh Thursday after Easter, which is June 4 this year.  We describe some rather curious rituals around birch trees involving symbolic dolls used to represent the rusalka, and how these are understood to symbolically free the restive spirits from their existence as rusalki.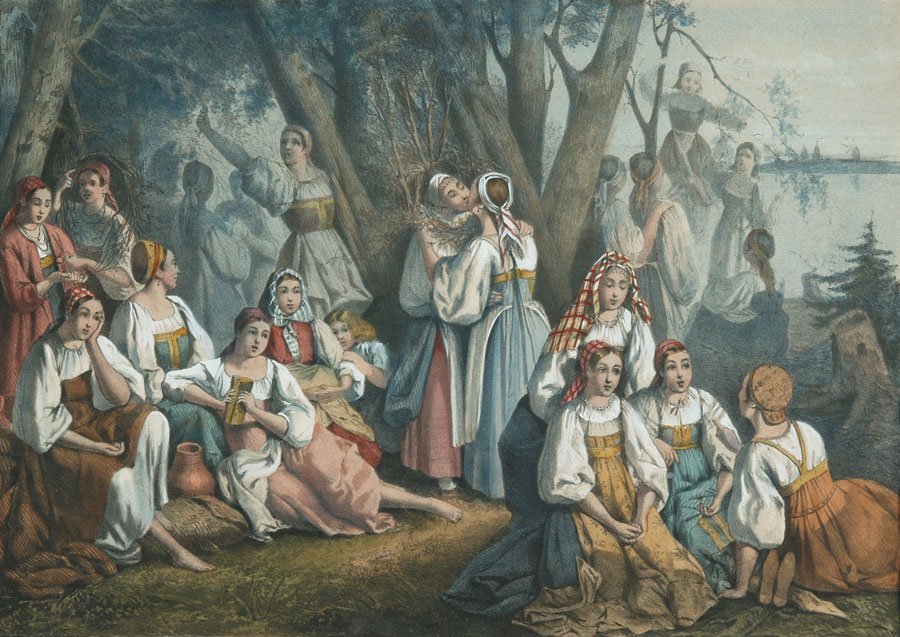 Rusalia celebrations embrace both aspects of the rusalki — their post 19th-century incarnation as dangerous ghosts, and an older pagan understanding of these beings as bringers of regenerative moisture and fertility of crops.  We also hear a few accounts describing tried and true methods for evading rusalki attacks particularly common during this period.
The rusalka folklore has been adapted into a number of Slavic productions over the years.  We hear of a rusalka in Russian novelist, poet, and dramatist Nikolai Gogol's 1831 collection of stories Evenings on a Farm Near Dikanka, which served as the basis of a loopy but fun Russian TV series, Gogol, from which we hear a clip.  ( A rusalka briefly appears also in Gogol's Viy, adapted into a cult classic film of 1967, Viy Spirit of Evil, from which we hear a clip.
Rusalka folklore has been a popular subject for opera. Alexander Dargomyzhsky's Rusalka, which premiered in 1856 was based on a nearly finished verse drama by Alexander Pushkin.  Its tragic tale involves not only a a vengeful adult rusalka, but also a dangerous child rusalka, and a madman who believes he is a raven.
The better known Rusalka opera, which premiered in 1900, is by Czech composer Antonín Dvořák.  Best known for its lovesick aria "Song to the Moon" in the first act, its story draws partly on Slavic folklore and partly on Hans Christian Andersen's "The Little Mermaid" to tell its equally tragic tale.  A vodnik or "water goblin" is cast as the father of the character given the name Rusalka, and the opera also features the witch Jezibaba, the Czech equivalent to Baba Yaga.
Dvořák liked to say the opera was inspired by fairy tales of popular 19th-century poet Karel Erben, namely his 1853 collection Kytice, which means "bouquet". (The book was given a particularly sumptuous treatment int the 2000 adaptation known in English as Wild Flowers.)  While in fact the opera borrows nothing directly from Erben's stories, Dvořák did more explicitly embrace one of Erben's pieces in his symphonic poem known in English as "The Water Goblin."  Mrs. Karswell reads for us the climactic scenes of this tale, which is gruesome even by Bone and Sickle standards.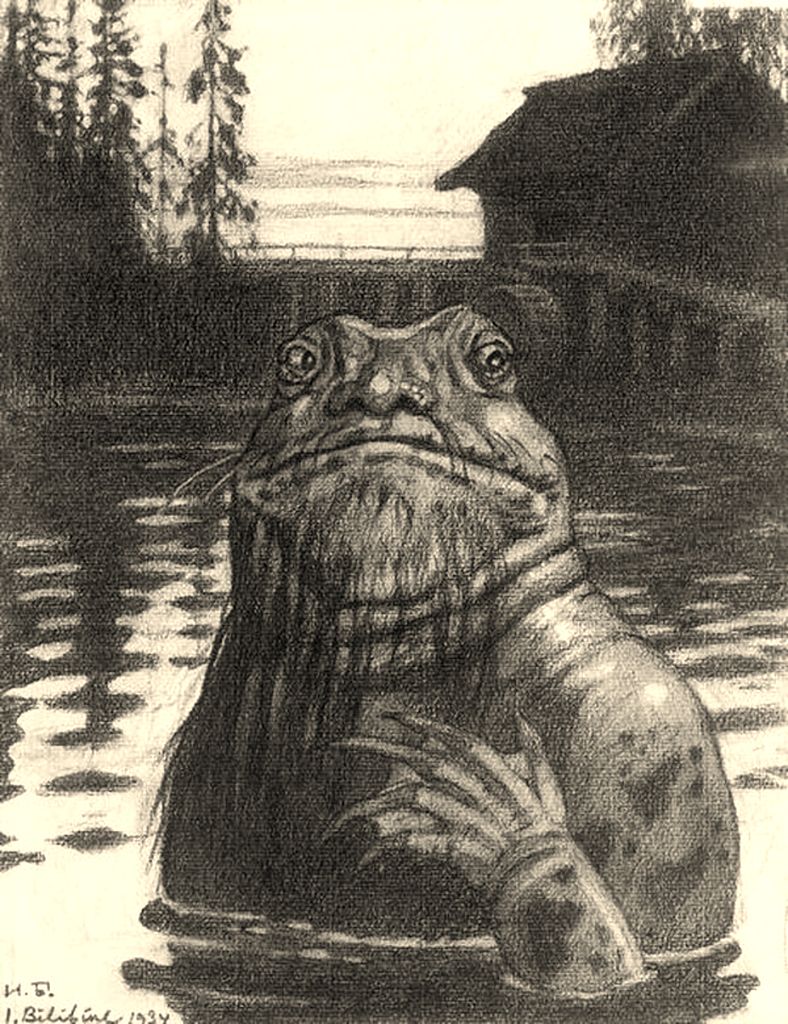 After a bit of further discussion of the vodnik and its Russian near-equivalent, the vodyanoy, we address the elephant in the room — the fact that the rusalki are said to tickle men to death.  I share a few comments on reference to historic tickle torture, as well as some anecdotes from the much more amusing history of death by laughter.