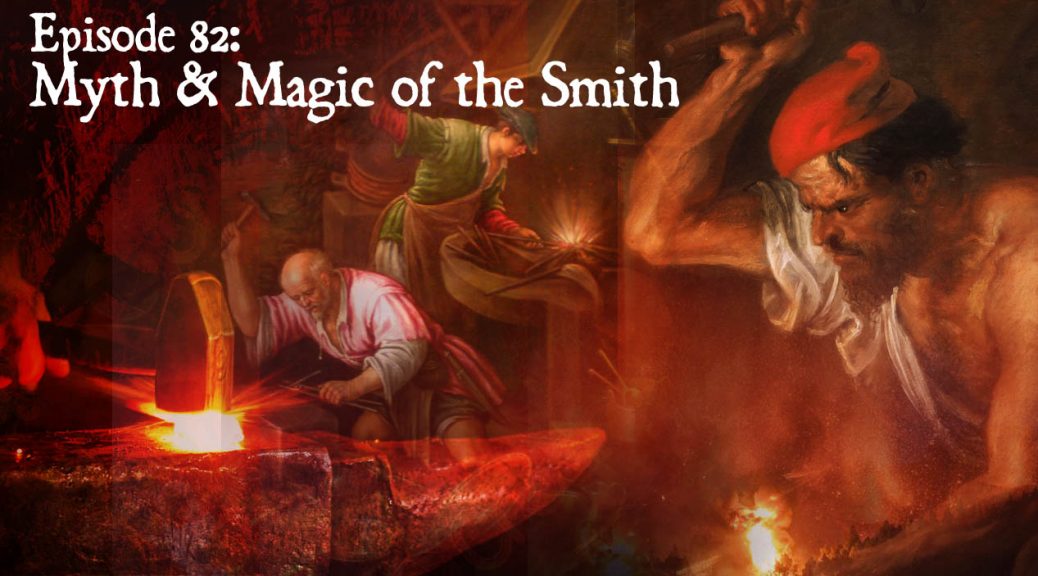 Myth and Magic of the Smith
Podcast: Play in new window | Download (Duration: 51:13 — 58.6MB)
Subscribe: Apple Podcasts | Google Podcasts | Spotify | Android | Stitcher | Podchaser | Email | RSS | More
Folklore of the blacksmith portrays him as a semi-magical figure, a wily opponent of the Devil, a mythic creator in classical and biblical narratives, and an embodiment of occult wisdom within certain secret societies and neopagan groups.
We begin with an audio snippet from the excellent 2017 horror-fantasy Errementari: The Blacksmith and the Devil, a cinematic elaboration of the Basque folktale, "Patxi the Blacksmith" collected back in the 1960s by the Spanish priest and Basque ethnographer Jose Miguel Barandiaran.
This is one of dozens (perhaps hundreds) of variants of "Blacksmith and Devil" tales found from Russia to Appalachia, all of which involve a smith selling his soul to the Devil in exchange for some reward, then somehow tricking the Devil out of his due. Some variations of  the story collected by Jacob and Wilhelm Grimm are outlined, and Mrs. Karswell reads passages of an Irish variant from the 1896 volume, The Humor of Ireland, one which also serves as a sort of origin story for a popular seasonal custom.
While most of the blacksmiths in these tales tend to be roguish, England offers a devil-combating smith who is actually quite saintly, namely St. Dunstan, the 10-century Abbot of Glastonbury, who also found time to master the harp and the art of blacksmithing. We hear several variations of his encounter with the Devil.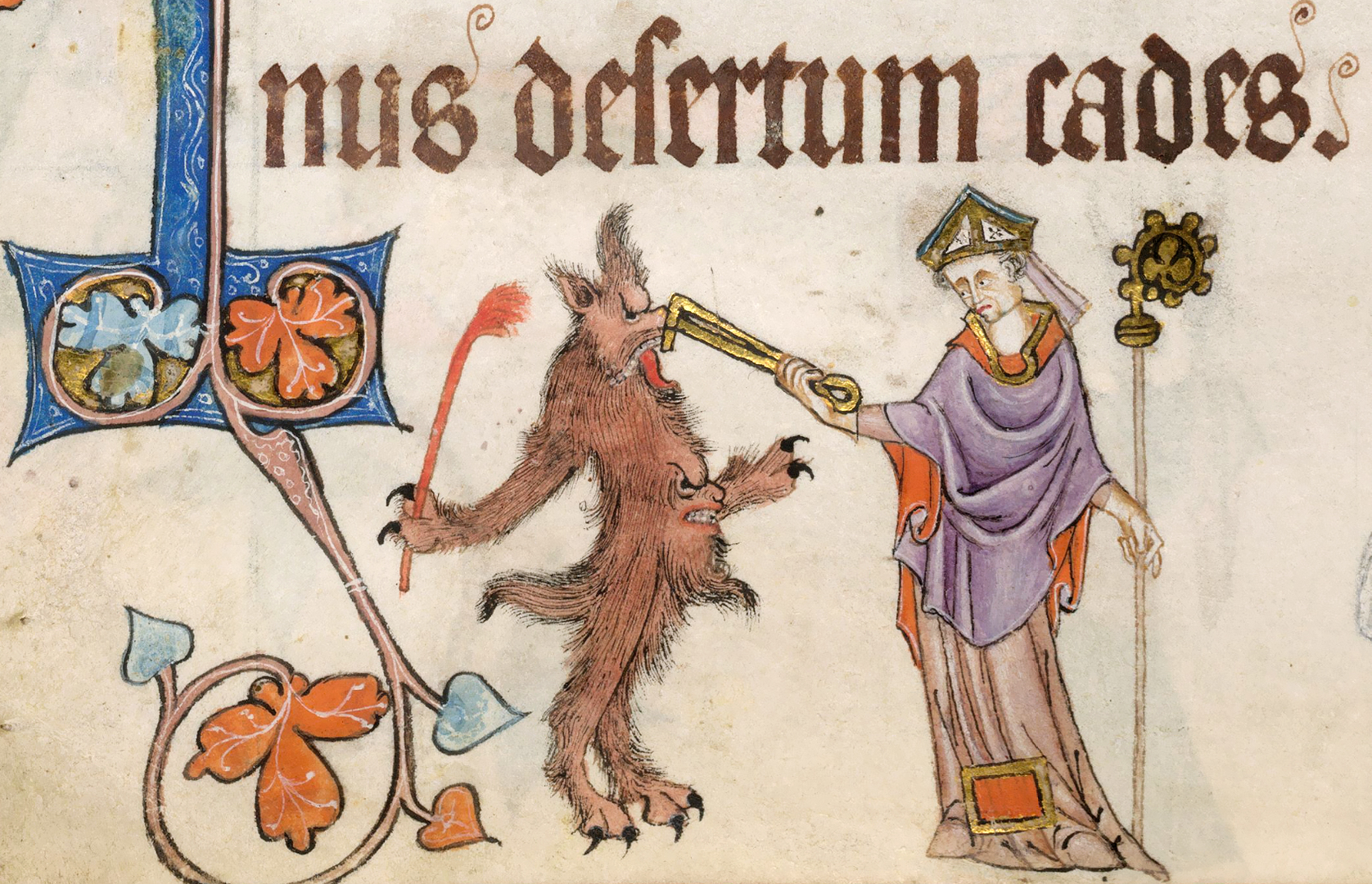 We then explore folk customs associated with St. Clement, the first-century bishop of Rome whose particular style of martyrdom led to his being embraced as patron of blacksmiths. A variety of celebrations by ironworkers on St. Clement's Day (November 23) are discussed; we hear a snippet of a song associated with "clementing" (going door to door to collect donations for the "Old Clem Feast,") and hear a tale told at these feasts explaining how the blacksmith was declared "King of All Trades" by King Alfred.  There's also a bit about a pyrotechnic festivity known as "anvil firing" associated with these celebrations and a snippet of the traditional blacksmith-toasting song, "Twanky Dillo," sung by the Wild Colonial Boys.
Moving further back into Anglo-Saxon history, we encounter the figure of Wayland the Smith, one who appears briefly as a swordsmith and armorer in Beowulf and other English narratives but whose story is most thoroughly presented in the Lay of Völund part of the Poetic Edda ("Wayland" being an adaptation of the Old Norse name "Völund.")  We hear a brief summary of this tale, including the particularly gruesome revenge taken by the smith upon the king who takes him captive.
We also hear a bit about Wayland's Smithy in Oxfordshire, a Neolithic long barrow or stone-chamber tomb supposedly occupied by a ghostly blacksmith.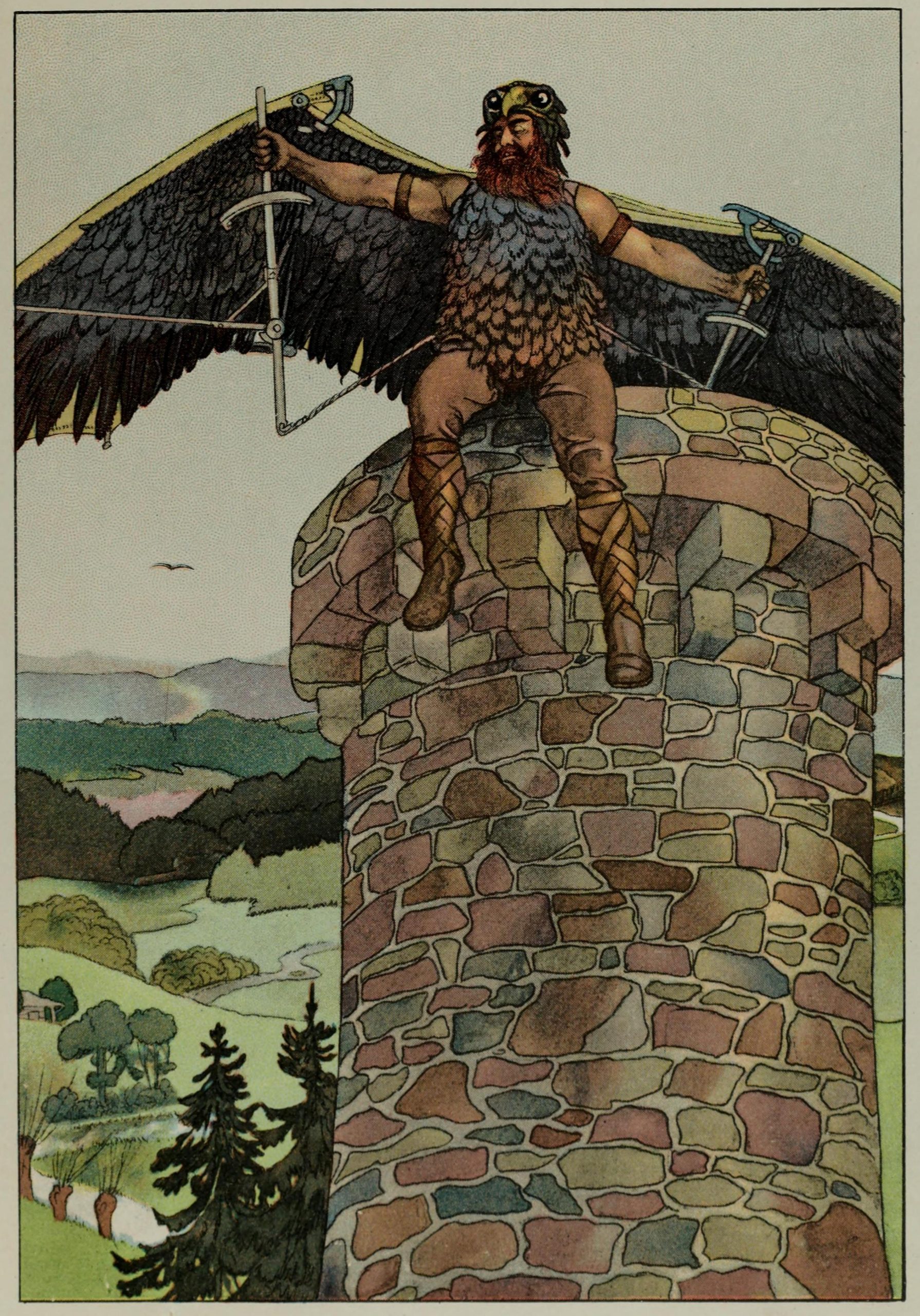 We then have a look at the smith god of classical mythology, Vulcan (Roman) or  Hephaestus (Greek), his physical traits and fantastic creations, which extend beyond simple smithing into the realm of magic and even the creation of the first human female, Pandora.
Another metalworker associated with mankind's origins is Tubal-Cain, described in the book of Genesis as the first "forger of all instruments of bronze and iron."
As a descendent of Cain (who commits mankind's first murder) and a creator of weapons enabling more deaths, Tubal-Cain's folkloric reputation tends to be rather black. The  apocryphal book of Enoch, presents a truly Luciferian blacksmith seemingly based on Tubal-Cain, the fallen angel Azazel, who utterly corrupts mankind before the flood of Noah.
This flood narrative also figures into the mythology of Freemasonry and the role assigned the figure of Tubal-Cain in its rituals. (I give away a few masonic secrets in this segment and can only hope I will not pay for this with my life.)
Also discussed is the Masonic-inspired Society of the Horseman's Word whose members were said to exercise supernatural control over horses in rural areas of Scotland and England in the 19th century.  The order's mythological founder was understood to be either Cain or Tubal-Cain, depending on the region.
A blacksmith and son of one of these Horsemen was Robert Cochrane, who in 1966, founded The Clan of Tubal Cain, a coven and spiritual path intended to rival the Gardnerian witchcraft largely defining the neopagan world of the 1960s.  We end the show with a particularly strange and tragic tale associated with this group.