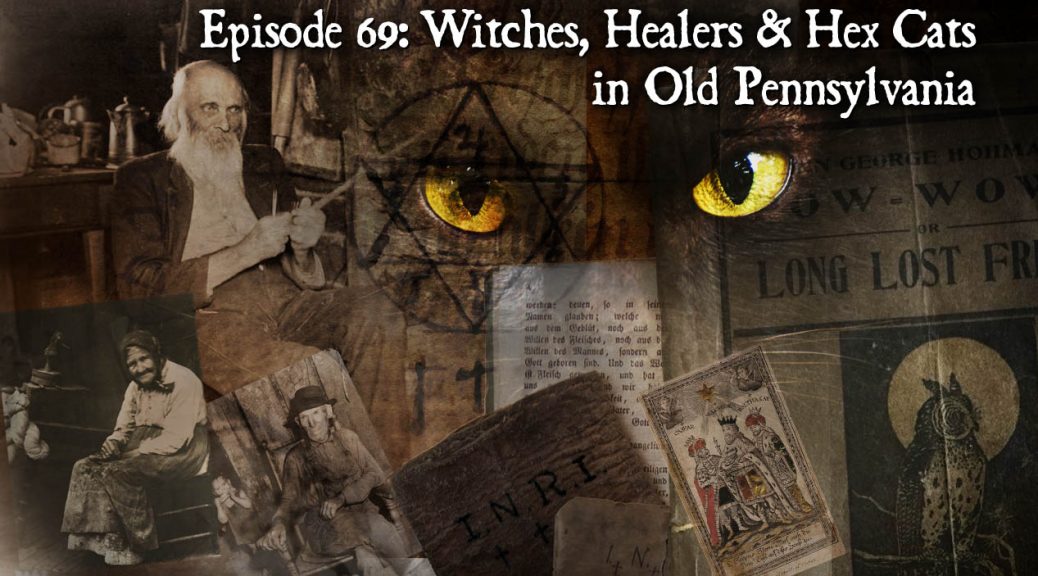 Witches, Healers, and Hex Cats in Old Pennsylvania
Podcast: Play in new window | Download (Duration: 46:00 — 52.6MB)
Subscribe: Apple Podcasts | Google Podcasts | Spotify | Android | Stitcher | Podchaser | Email | RSS | More
Stories of witchcraft and folk-healers in early Pennsylvania are surprisingly plentiful. In this episode, we examine the state's German-American tradition of Braucherei that spawned these tales. The practice came over with immigrants from Germany's southwestern Rhineland beginning in the late 1700s and established itself among the Pennsylvania "Dutch" (a misunderstanding of  "Deutsch") in the state's southern "Dutch Country" region, eventually moving westward through Appalachia and all the way to Indiana and south into the Ozarks.
We begin with a chant supposedly chanted in the 1800s by witches gathered at Hexenkopf Rock ("witch's head" rock), an actual site about 15-minutes outside the old steel town of Bethlehem.  The locale is central to early Braucherei and to the other name by which it goes, namely "Pow-Wow."
It was on land adjacent to the Hexenkopf that Johann Peter Seiler, who immigrated from Germany in 1738, eventually settled and set up shop as a folk-healer, or "Braucher" (one who practices Braucherei).  As he also offered treatment to the native Algonquin, his work was equated by them to that of their medicine man or his rituals, and he was supposedly dubbed  "The Great Pow-Wow."  This is one origin story for the odd nomenclature, though others believe the term "pow-wow" was applied by English settlers as a disparaging comparison to native rituals.  The term is still used and carries no such disparaging connotation today.  Nor does it imply a borrowing of Native American traditions into Braucherei, which is firmly rooted in Old World traditions.
While the Braucher has frequently been described by outsiders a "witch" or "witch doctor," it's certainly not a label accepted within the tradition, as there are no "good witches," only bad witches, (Hexes) who practice Hexerei.  Brauchers are often sought to remove curses placed by Hexes, though occasionally practitioners have been known to slip from one side to the other.
We next look at a sampling of the magical tools and techniques employed in Braucherei, the prominence of the color red, preponderance of written charms carried by clients, and the spoken charm, the famous "Blood Verse" used to stop bleeding.
A Braucher would always consider himself to be Christian, and much use is made of religious images and verbiage, especially from Catholic traditions.  Though the Pennsylvania Dutch immigrated from Germany's Protestant regions, Braucherei has served as a sort of underground continuation of medieval Catholic practice in a Post-Reformation world.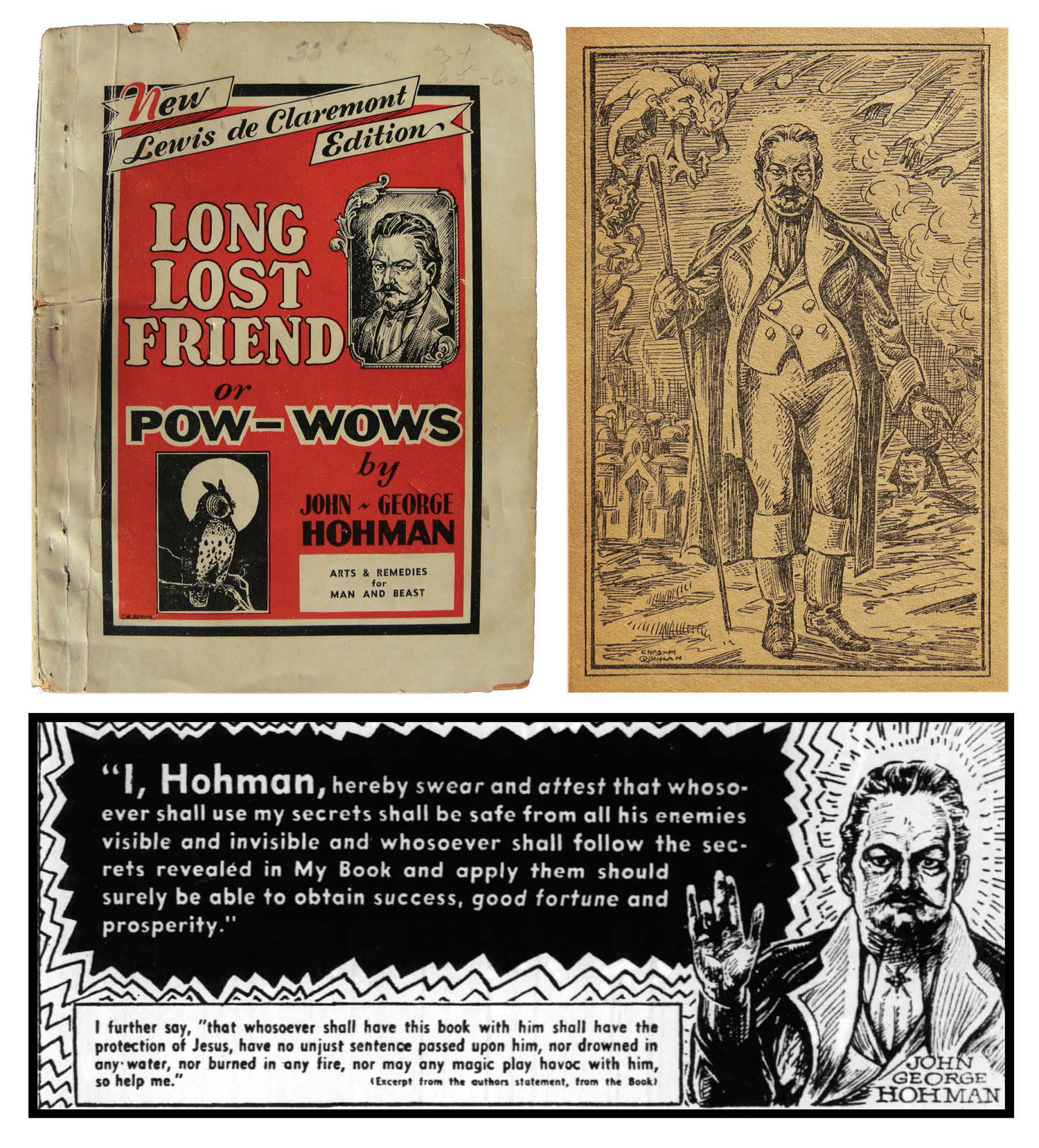 We then discuss the curiously titled volume The Long Lost Friend, a classic sourcebook for Braucherei, published by German immigrant, printer, and Braucher John George Hohman in Reading, Pennsylvania in 1820.  Much of it, we learn, was borrowed (sometimes verbatim) from earlier European books of magic, though applications described therein are very specific to 19th century agricultural life.  We also hear a bit about another magical sourcebook used (more in Hexerei thanks to its inclusion of destructive magic), the Sixth and Seventh Book of Moses (published as a single volume).  We hear a bit about its notorious reputation, both in Braucherei and American Hooodoo.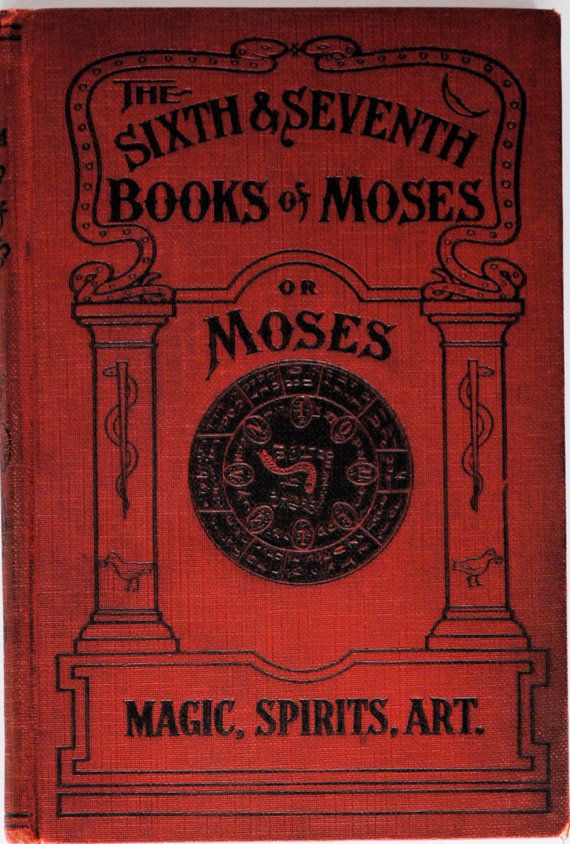 The balance of our show is devoted to tales of witches and healers, gleaned mainly from newspaper archives and read by the inimitable Mrs. Karswell.
We hear of "Old Moll" of Fayette County, her fortune-telling with coffee grounds, of a legendary prophecy (curse?) laid upon some miscreants passing through town, and her appearance in connection with other local legends, as in the 1865 book,The White Rocks by A.F. Hill, a romanticized retelling of the murder of Polly Williams.
A hotbed of Braucherei, Berks County provides our remaining stories — an 1889 story in which a witch torments her victim in the form of a night hag, and the way in which a Braucher defeats her, and an 1892 story involving a baby covered in spots thanks to a visiting witch, who was eventually defeated while in the form of a cat.
Another witch in the form of a cat was the famous "Hex Cat" that haunted the farm of the Thomas family in Tumbling Run Valley in 1911.  This one made national news, with reportage appearing as far away as Hawaii.  It also generated a moderate frenzy of commercial exploitation.  I'll leave the details of the case for you to enjoy as you listen.
Stay tuned for our next episode further exploring Braucherei, including some shocking criminal cases in which the tradition played a role.
I should also mention that we had some audio cameos in this show.  A number of our subscribers on Patreon joined in as witches in the chant at the Hexenkopf.  Thank you to: Allison Lovecraft, Victoria Howard, Angelica, Bridget Case, Jenny Matisiak, Molly Van Overhill, Alice Price, and Anne Luben!
(Long Lost Friend images courtesy the Glencairn Museum's excellent 2017 exhibition on Braucherei)