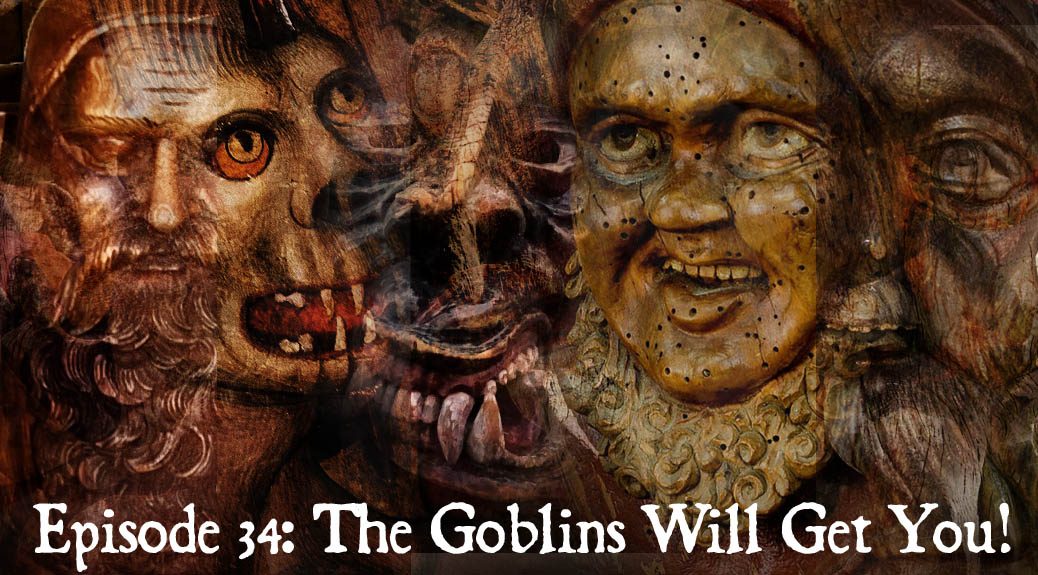 #34 The Goblins Will Get You!
Podcast: Play in new window | Download (Duration: 47:42 — 43.7MB)
Subscribe: Apple Podcasts | Google Podcasts | Spotify | Android | Stitcher | Podchaser | Email | RSS | More
Goblin lore from old folk tales, literature, ancient and modern legends is our topic this time around.
We begin with the poem from which we take our episode title, James Whitcomb Riley's "Little Orphant Annie" in which the poet remembers his childhood nanny and her "witch tales" and threats about goblins coming.
Next, we take a quick look at the word "goblin" itself, and how it relates via the goblin-like "boggart" or "boggle"  of the Northern England and Scotland to our word, "bogeyman" (hearing a snippet along the way of Henry Hall's 1932 rendering of the song, "Hush, Hush, Hush, Here Comes The Bogeyman.")
The word "goblin" seems to have made its way into English from Normandy.  A 12th-century tale that from that region employs a latinzed version of the word, "Gobelinus," to name a creature that menaces the 6th-century saint Taurinus in Orderic Vitalis's Historia Ecclesiastica.  The creature's hapeshifting between a bear, a lion, and a buffalo is a trait we'll see later with other goblins.  We also hear of the first English usage of the word — one which appears in a translation of the Bible, of all places.
The root of the word, "goblin," and German and Old French cognates, points to a connection with caves, or hollows in rocks, which takes us to the a certain species of goblin in Cornwall particularly, which is said to reside underground, specifically in mines. In England, these are known as "knockers" for the sounds they're said to make with the tiny miners' hammers, a words that evolved into "tommyknocker" for the spirits haunting American mines in the 19th century. We hear some examples of its playful and sometimes malicious interactions with miners, and of a particularly gruesome death attributed to these beings in Colorado.
Our next section looks at several legendary goblins that made their way into the poems and folklore studies of Sir Walter Scott. The first example, appearing in the poem "Marmion," involves "Goblin Hall," a name given to Yester Castle in East Lothian, which was said to have been built by a sorcerer assisted by goblins.  We also hear an additional tale associated with the magician featuring a magic fruit he's said to have given his daughter.  Taking a bite of the "Coulston pear" proves very, very unlucky.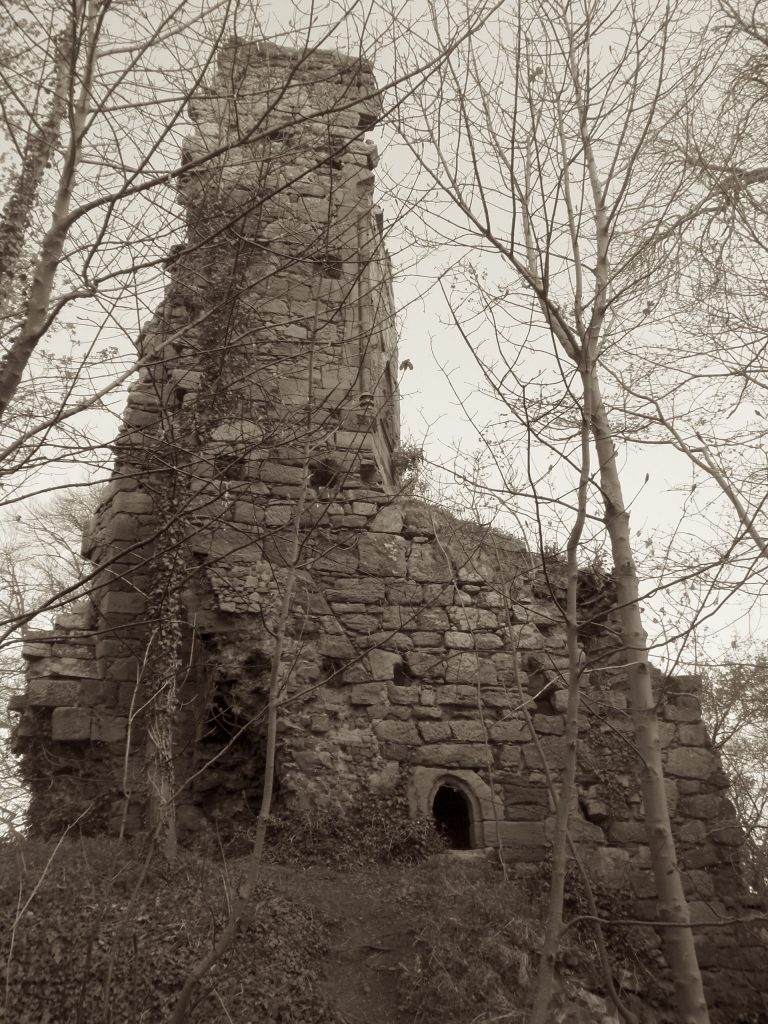 Scott also mentions a "Goblin Cave," in his 1810 poem, "The Lady of the Lake." Near Loch Lomond, it was not only the legendary home of goblis but also served as a location for a scene in Scott's poem and as unlikely inspiration for a well known Catholic hymn composed by Schubert.
Scott's 1805  poem "The Lay of the Last Minstrel" adapts a local legend of a goblin named Gilpin Horner. It also features an undead warlock based on the historic scholar Michael Scott, who came to be regarded in the popular imagination as a sort of Dr. Faustus charcter.  Mrs. Karswell reads a bit of the poem, in which the goblin meets a spectacularly melodramatic end.
Our last stop in Scotland is the imposing Hermitage Castle near the English border, which like the "Goblin Hall," was said to have built by goblins under the direction of the magician "Bad Lord Soulis" (as he's known in legend).  In the legend and ballad Scott collected, Soulis is supposed to have carried out bloody occult rites in Hermitage Castle with the assistance of his goblin familiar Robin Redcap.  Redcaps are a particularly malevolent form of goblin known in Scotland for dipping their caps in human blood, which serves as dye.  We hear of Soulis' particularly grisly mode of death and learn of another interesting Scottish figure, the prophet Thomas the Rhymer, along the way.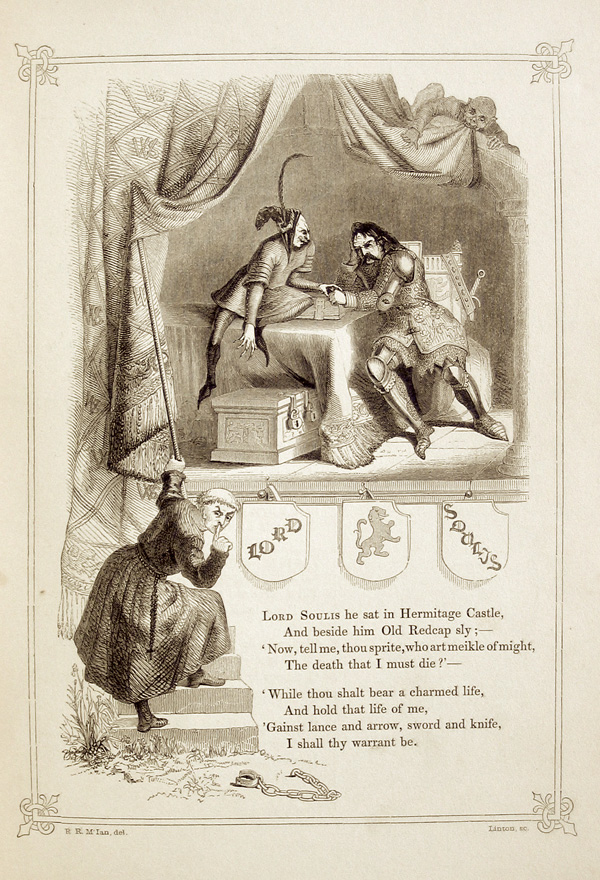 We then hear some similar tales from Germany involving goblins serving people of power.  The ruined Castle Hardenstein in North Rhine-Westphalia, was where King Neveling kept court and the home of the goblin Goldemar, whose tale features a grotesque act of revenge.  Similarly, we hear of the goblin Hödekin, servant of the Bishop of Hildesheim, who exacts a similarly grotesque revenge on an individual a bit too eager to lift the goblin's  cloak of invisibility.
Hobgoblins, we learn, are a species of goblin attached to a particular home or farm.  They are generally helpful but can be mischievous or even cruel.  A surefire way of getting rid of a troublesome hobgoblin is explained.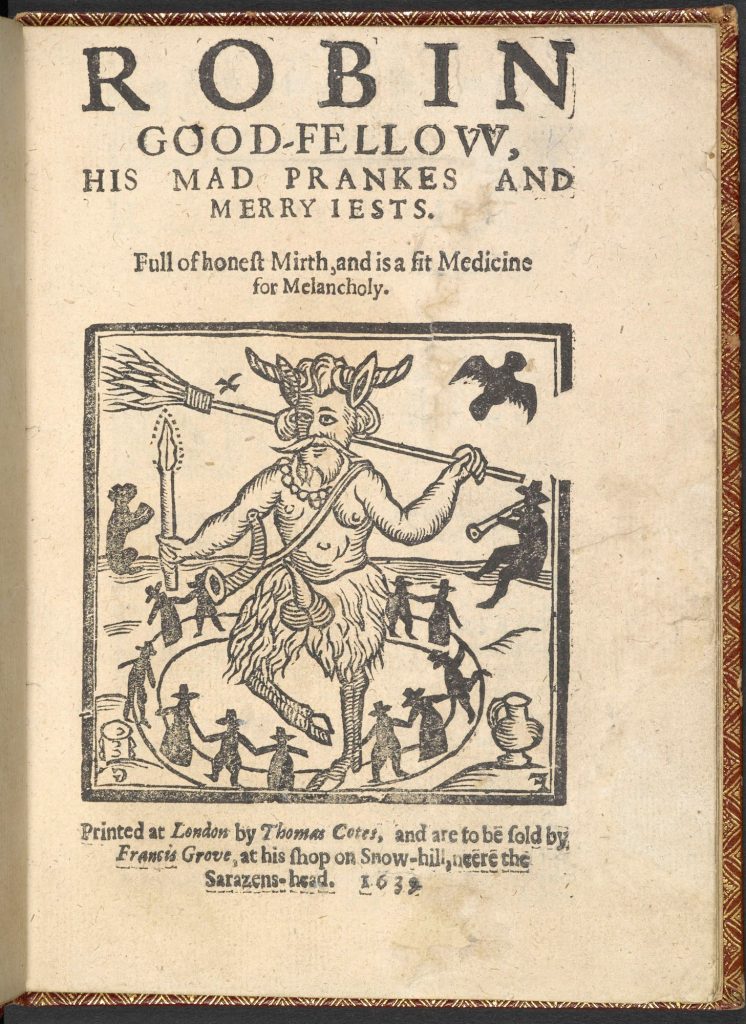 Next is a look at the 17th-century pamphlet representing a famous hobgoblin, namely Robin Good-Fellow, his Mad Prankes and Merry Jests.  The book seems to have been inspired by the even more famous hobgoblin, Puck, in Shakespeare's A Midsummer Night's Dream. We hear a passage from the Bard which seems to reach back to that 12th-century goblin, Gobelinus, and his shapeshifting ways.
We end the show with a nod to modern "goblins," the first being the "Kentucky Goblins," the name given to some alleged extraterrestrial visitors said to have lain siege in 1955 to the Sutton family farmhouse near Kelly Kentucky.  This was a landmark event in UFO mythology, giving birth to the phrase "little green men," a phrase  featured in countless jokes and songs, like George Morgan's 1961 "Little Green Men," which we hear a bit of.  The event is commemorated annually in Kelly, Kentucky with The Kelly Little Green Men Days.  We hear some clips from a promo for that. Introducing our "modern" segment was also a clip from Rosemary Clooney's 1951 song,"The Wobblin' Goblin."
The show ends with a clip of a 2019 "goblin" sighting ludicrously analyzed by the journalists of Inside Edition.