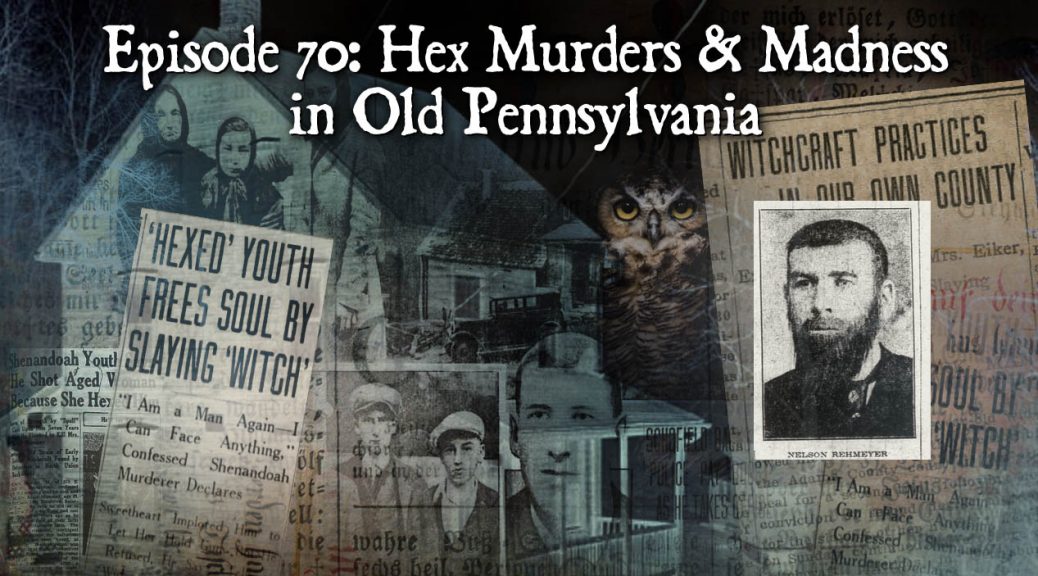 Hex Murders and Madness in Old Pennsylvania
Podcast: Play in new window | Download (Duration: 46:46 — 53.5MB)
Subscribe: Apple Podcasts | Google Podcasts | Spotify | Android | Stitcher | Podchaser | Email | RSS | More
Cases of madness and even murder were associated with Hexerei, a form of witchcraft brought to Pennsylvania by German immigrants.  Following up on our previous examination of the tradition of Braucherei or Pow-Wow as practiced in 18th and 19th century Pennsylvania, our current episode eplores some more disturbing cases of witchcraft beliefs surviving into the 1920s and '30s.
Our show begins with a montage of voices extracted from the documentary Signs, Cures, and Witchery: German Appalachian Folklore. It was produced as a companion to an excellent book of the same name by Gerald Milnes.
By the 1890s, any public notice taken of Braucherei tended to be negative. Journalists were quick with comparisons to the Salem witchcraft mania and tended to focus on cases in which witchcraft belief led to madness.  We hear an example of this from an 1891 Pittsburgh Dispatch article describing two women driven to paranoia in the hills of Earl and Douglass townships. From the Public Weekly Opinion of Chambersburg, PA, we hear bits of an 1894 story describing the extreme (and destructive) measures taken by a George Kellar to rid his property of witches.
The first of the witchcraft-related homicides we examine comes from a March 1922 edition of the York Daily Record.  It's the case Sallie Heagy, whose belief in witchcraft and a night-hag like entity known in Pennsylvania as "Trotterhead," led to her shooting her husband while he slept.
We then move on to the most famous witchcraft murder in Pennsylvania, namely that of a part-time Braucher and potato farmer, Nelson Rehmeyer, who met his end in York County in 1928.  Mrs. Karswell opens this segment reading a description of the discovery of the decedent's body taken from a Nov. 30 edition of the Hanover Evening Sun.
The murder was committed by a group of men organized by John Blymire, a third generation Braucher or Powwower, who believed himself to have been cursed by Rehmeyer.  We hear a bit of his troubled history (which included being committed to a psychiatric hospital from which he escaped) and of his accomplices, including John Curry, a younger man whom Blymire took on as a sort of magical apprentice and Wilbert Hess, whose troubles with his wife and farm, according to Blymire's increasingly paranoic beliefs, were also tied to a curse by Rehmeyer.  We also hear of the involvement of the Braucherin Nellie Noll, sometimes called the "River Witch of Marietta," from whom Blymire sought help in identifying Rehmeyer as the one responsible for the curse laid upon him. The commission of the crime itself is described in our show via the court testimony given by Wilbert Hess.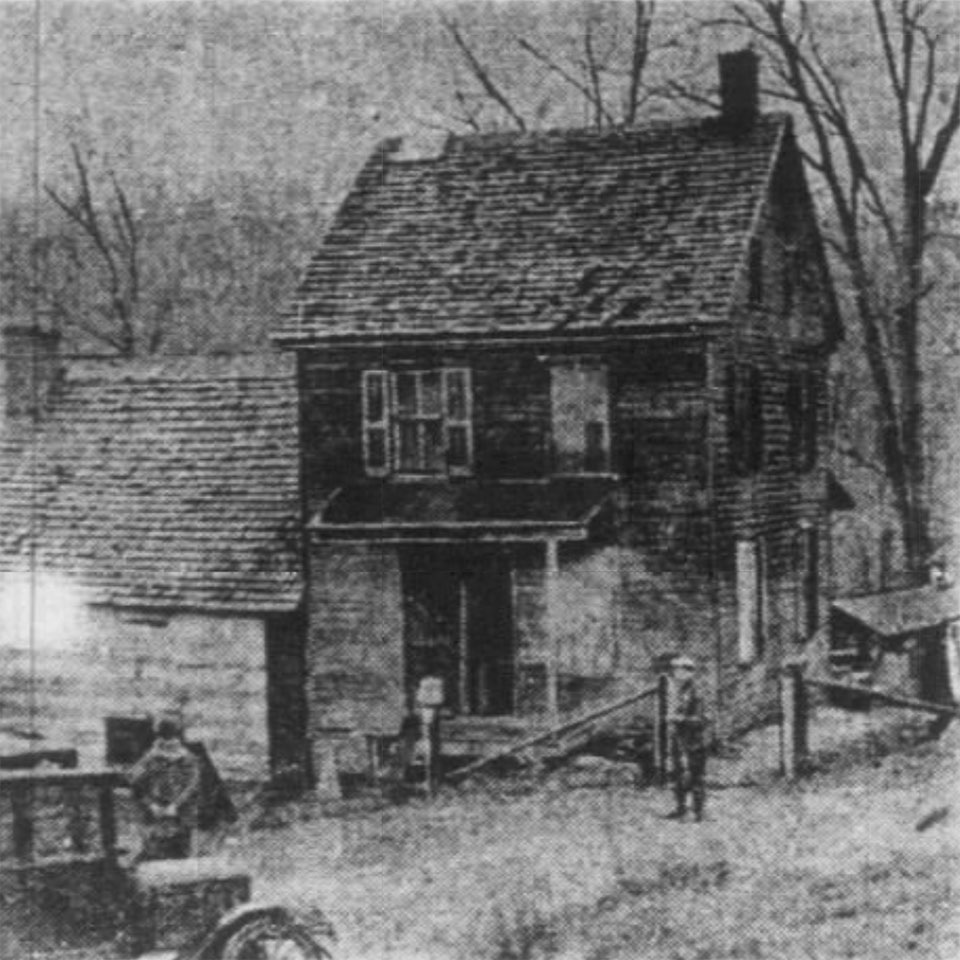 The media circus generated by a witchcraft-related murder in 20th-century Pennsylvania resulted in  the press becoming obsessed with investigating any possible links to Braucherei in any Pennsylvania crime they reported on.  We hear several examples of highly speculative connections made including that of  the twenty-one-year-old woman Verna Delp, whose death by poison was erroneously connected to concoctions given her by a Braucher in 1928.   A similar connection is examined in the 1930 case of Mrs. Harry McDonald, who was found burned to death in her home, as well as the case of Norman Bechtel, whose body was discovered in 1932 in a mutilated state, bearing injuries, the press presumptively identified as "hex marks."
Only 6 years after the Rehmeyer case, however, another murder with an undeniable connection to withcraft belief occurred in the vicinity of Pottsville (the same region as that of our Hex Cat case in Episode 69).  This was the murder on March 17, 1934 of Susan Mummey by Albert Shinsky.  Mummey was a local Braucherin, known by locals as "Old Susie," or sometimes "The Witch of Ringtown Valley," who had a cantankerous reputation with her neighbors.  At the age of 17, Shinksy experienced one such unpleasant encounter, which he came to regard as the origin of a seven-year curse placed upon him by Mummey — one that could only be resolved ultimately by slaying the witch with a magic bullet.  We'll leave the lurid details of this case for you to experience as you listen, but suffice it to say, the region still seems to have had problems with Hex Cats in 1934.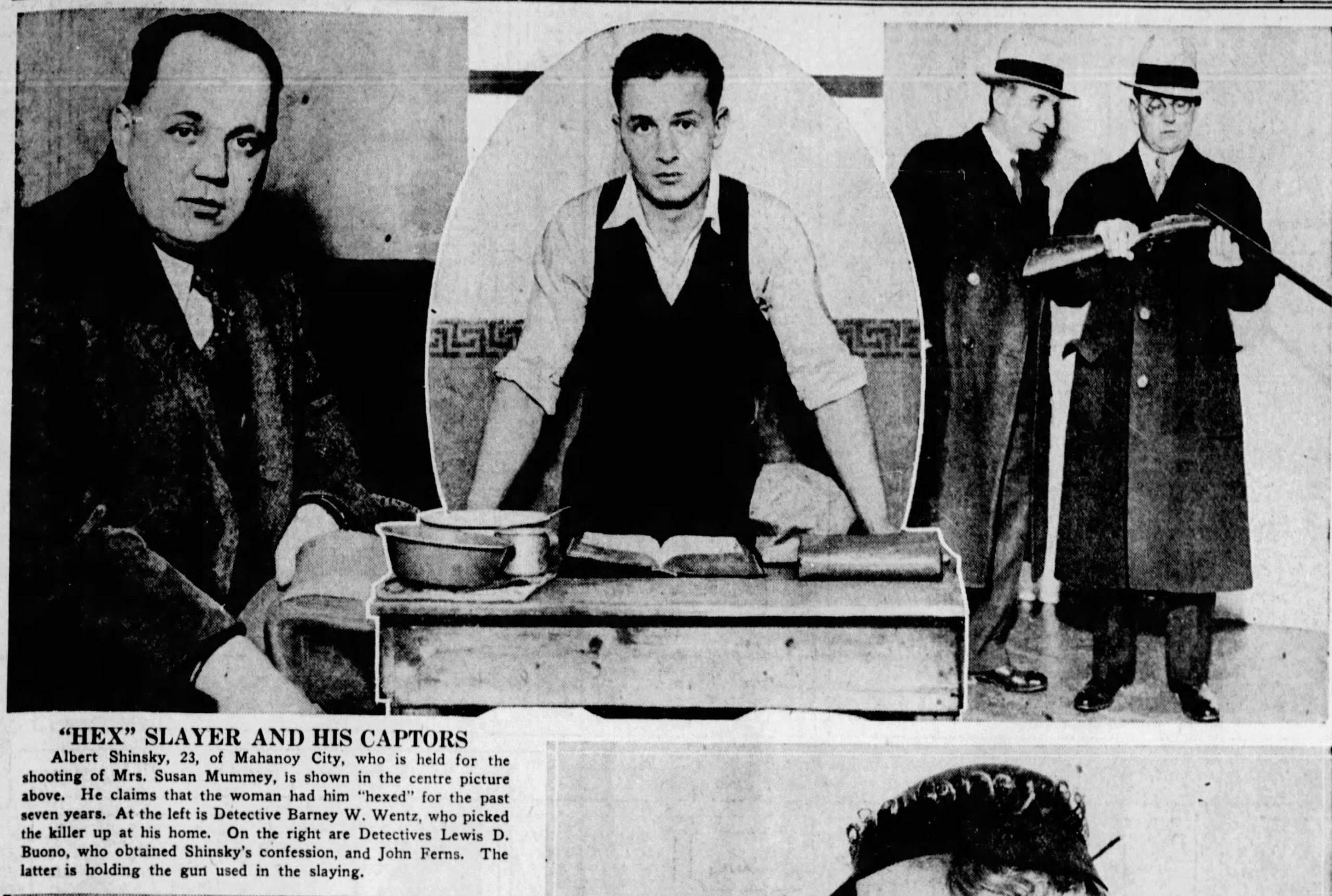 Our show closes with a look at the Rehmeyer case explored in different media.  A highly fictionalized version of the story was produced in 1987 under the name Apprentice to Murder, this one featuring Donald Sutherland as a notably more bookish John Blymire type.  There's also a good 2015 documentary, Hex Hollow, which features interviews with Blymire and Rehmeyer's descendants.  Strangest of all is the manner in which this story seems to have influenced the musical psychedelia of the York County band Lenny Lionstar and The Hillbillies of The Universe.  We close with a snippet of their work.