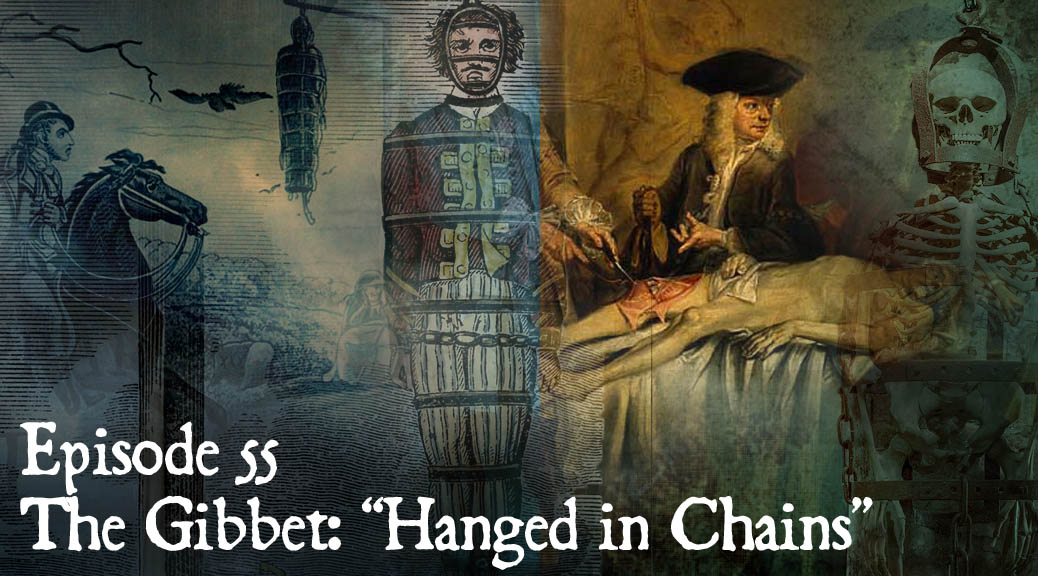 The Gibbet, Hanged in Chains
Podcast: Play in new window | Download (Duration: 45:44 — 52.3MB)
Subscribe: Apple Podcasts | Google Podcasts | Spotify | Android | Stitcher | Podchaser | Email | RSS | More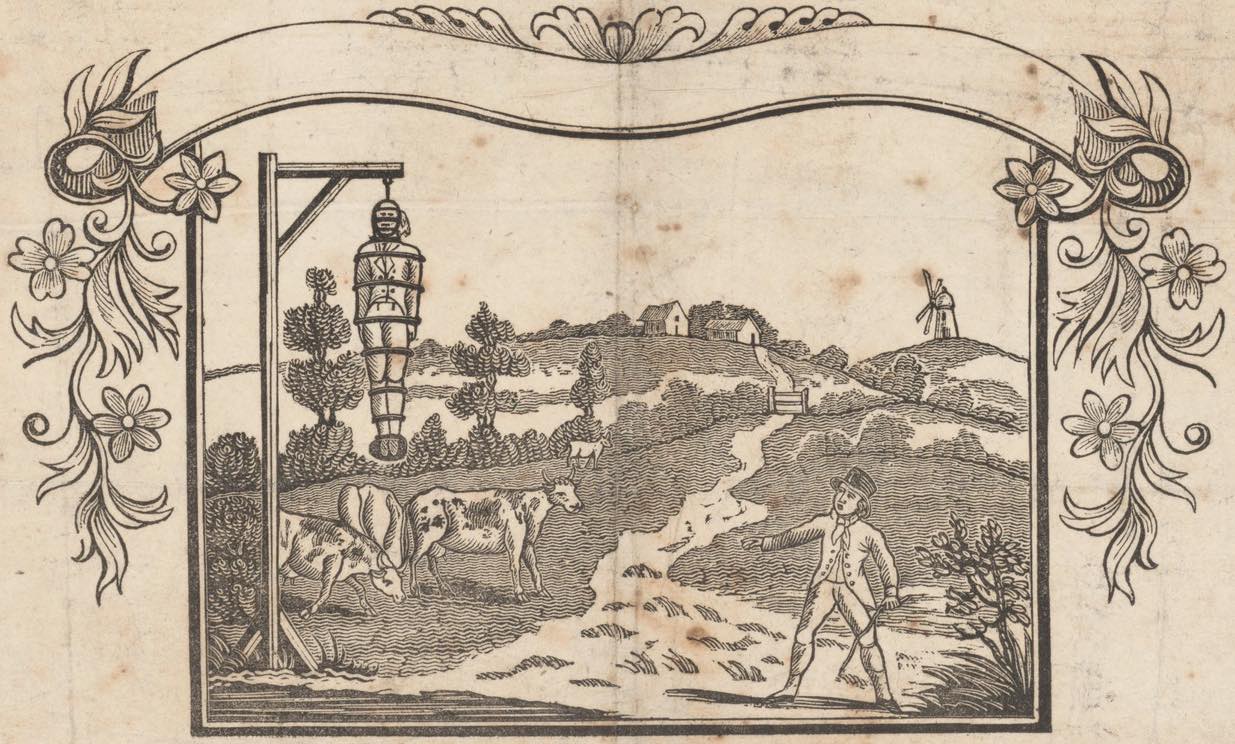 The gibbet was a hanging iron cage used to display the corpses of criminals in 18th and early 19th-century England. To be thus "hanged in chains," in the judicial jargon and thinking of the day, subjected the criminal to an extra measure of postmortem shaming and offered the general public a rather extravagant cautionary example. Naturally, this frightful spectacle also generated a fair measure of folklore, which we explore in this episode as a follow-up to our "Gallows Lore" show.
The gibbet was a relatively rare punishment reserved for the crime of murder, and only then used in particularly heinous or high-profile cases. Though it was sometimes employed before 1751, its use was more widespread thanks to The Murder Act instituted that year.  This bit of legislation offered this extra punitive measure in response to a sort of inflation of the penal code attaching the death penalty to increasingly minor crimes, such as acts of theft.
The Murder Act also designated anatomical dissection of the criminal body as an additional option for postmortem punishment, a fate actually much more common than the gibbet. Dissection may have been intended primarily to enhance physicians' medical knowledge, but it also provided the surgeons with body parts and substances that could be sold off for other purposes. We make a grisly digression from gibbets to explore some of the ways the human byproducts of executions were made use of in folk-medicine, magic, and certain professions.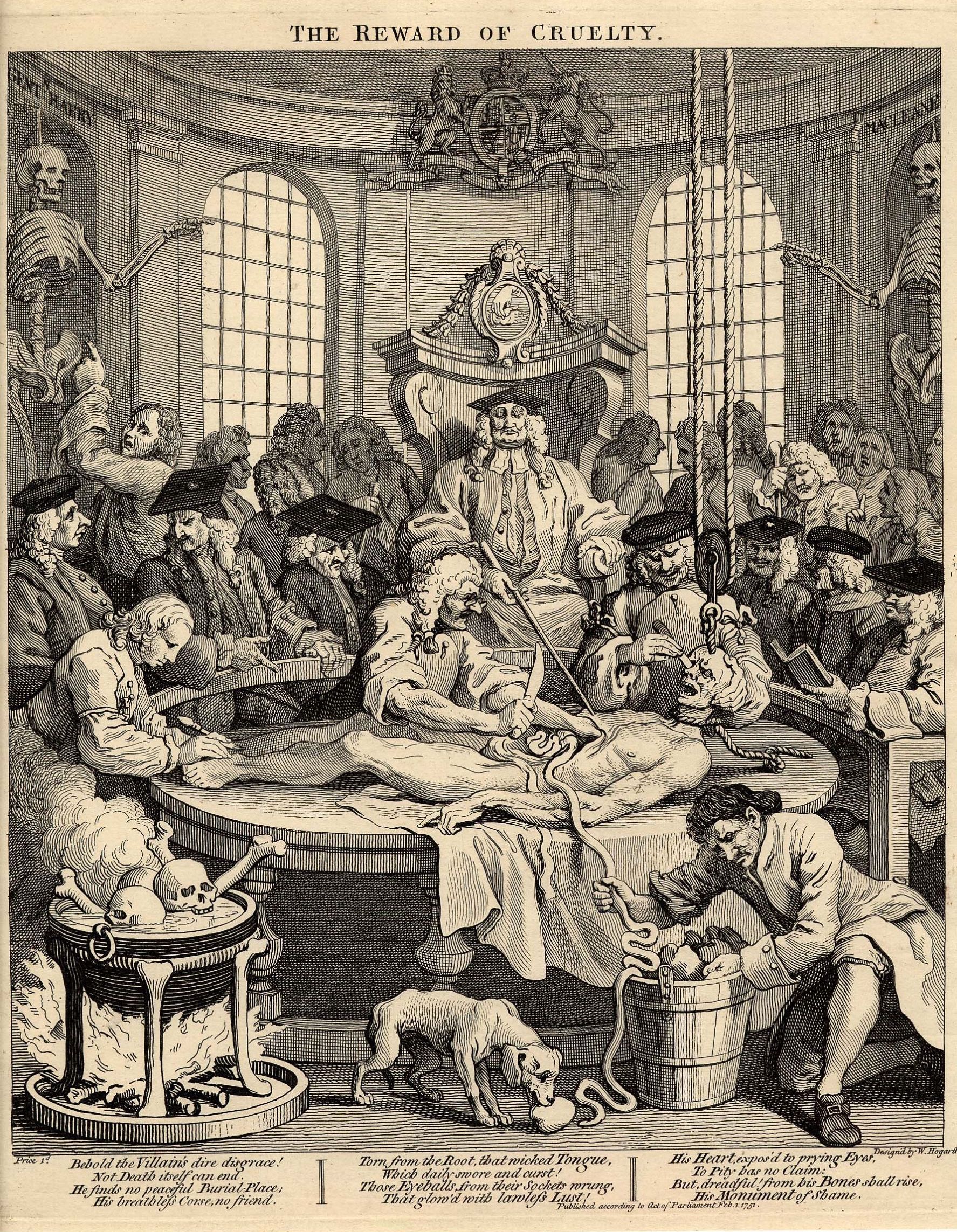 Next, we get into the  details of the gibbetting process. Contrary to common understanding, the gibbet was not simply designed as a sort of narrowed human-sized birdcage.  It was an arrangement of customized form-fitting iron bands wrapping the limbs, trunk, and body, and connected with vertical cross-pieces.  The cage was suspended in a way that allowed it to rock freely in the wind, lending a sort of eerie animation to the corpse and thereby increasing the terrifying impact of these displays.
The horrific impression made by the gibbeted corpse is detailed in Victor Hugo's 1869 novel The Man Who Laughs, in a scene describing an encounter with a gibbet by the story's protagonist as a child. Mrs. Karswell reads for us a few lavishly macabre paragraphs from the novel.
We follow this with another literary gibbet, one surprisingly found in a now-forgotten series of children's books by Mary Martha Sherwood, The History of the Fairchild Family, published in three volumes between 1818 and 1847.
Then we hear a typical ghost story told of the gibbet, a tale set down in ballad form as "Old Grindrod's Ghost," which first appears in the 1872 collection Ballads, Romantic, Fantastical, and Humorous by the historical novelist William Ainsworth. The excerpt of the song heard is from the North-English band Pendlecheek.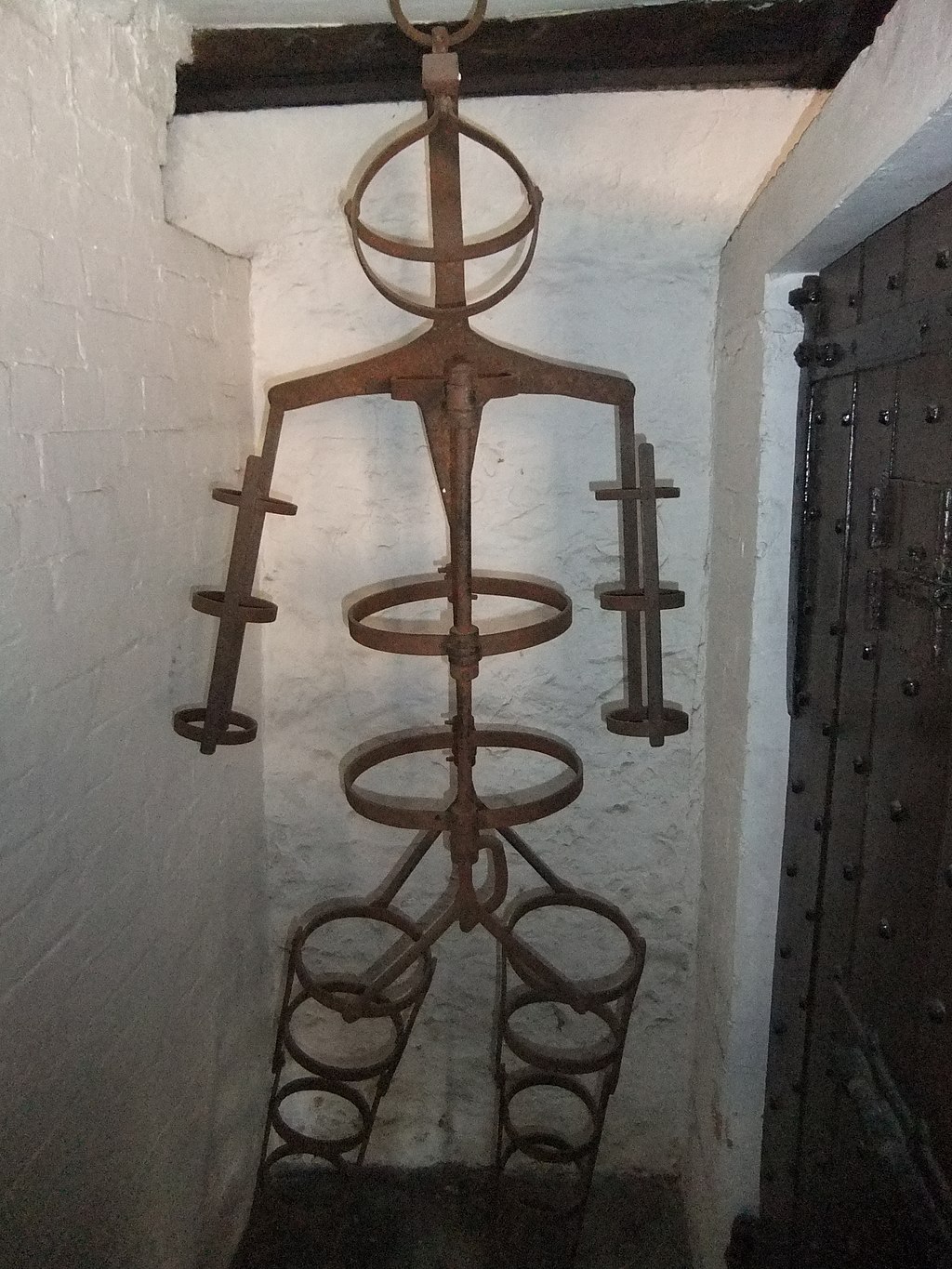 While gibbettings drew huge crowd, the morbid fascination they popularly exerted lingered on in relics obtained from the gibbets as they fell to pieces over the years — in bits of bone, fragments of iron and wood that were carried off as mementoes. We examine cases of gibbet iron and wood recycled as novelty products, or even as structural elements in buildings, such as an old gibbet post serving as a ceiling beam in The Hare and Hound on the Isle of Wight.  There are a few ghost stories, and gibbet rhymes and riddles along the way.
Though the gibbet was relatively exclusive to England, the practice was inherited by its colonial states. From America, we hear of  a very demanding pirate gibbetted on a small island in Boston Harbor, and from Canada, a unique case of a gibbetted woman, Marie-Josephte Corriveau, hanged in chains in Québec City for murdering her husband in 1733.  Though her case was sensational enough for its time, her fame was greatly increased in 1851, when her gibbet was accidentally dug up and then acquired by P.T. Barnum for exhibition. In the wake of this, a body of folk tales sprung up, in which "La Corriveau" became a sort of witch or spirit — or beautiful femme fatal.
We close with a nod to the predatory birds that famously tear at the bodies hanged in chains. From Germany, we offer a bit of folklore on magic eggs produced by ravens who have thus dined, and from Scotland we hear a bit of the ballad, "Twa Corbies," (two ravens or crows), which tells of the birds feeding not on a convicted criminal, but a slain knight. Included is a snippet of an excellent rendition of the song by The Cories.