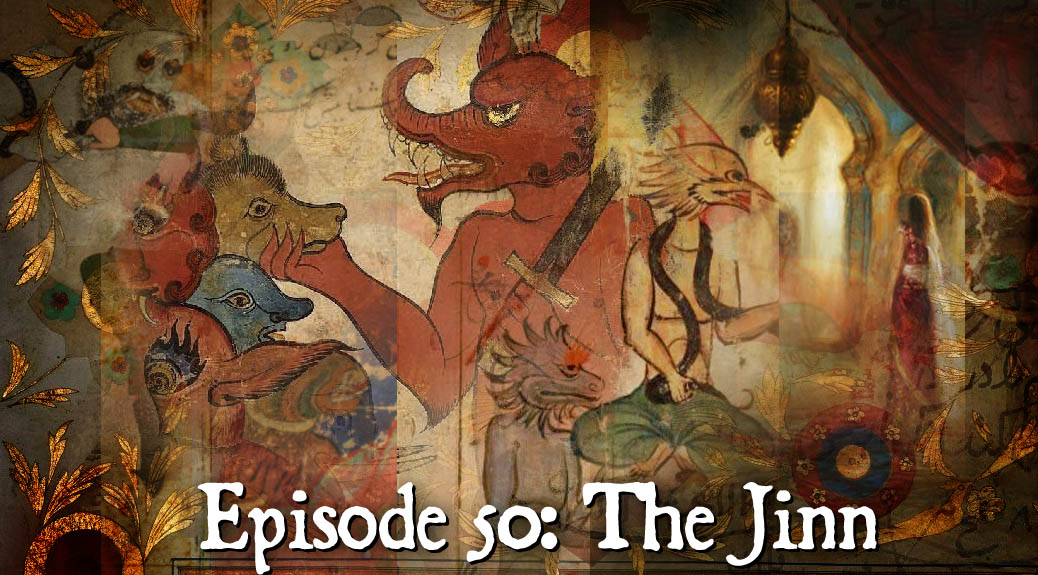 Podcast: Play in new window | Download (Duration: 48:06 — 55.1MB)
Subscribe: Apple Podcasts | Google Podcasts | Spotify | Android | Stitcher | Podchaser | Email | RSS | More
They Arabic mythology of the jinn is, not surprisingly, quite different than what you might glean from Western pop culture. Films such as 1940's The Thief of Baghdad and 1958 Ray Harryhausen classic, The Seventh Voyage of Sinbad, which we hear sampled in our opening might have you believe these creatures function as nothing more than wish-granting slaves, but their existence needn't be entangled with human wants and needs.
One Thousand and One Nights, or the collection sometimes titled Arabian Nights, is the original Western source when it comes to our topic of the genies or the jinn.  This begins with the word "genie," an English rendering of the original French translation of the Arabic word, "jinn" (which can be used as both plural and singular, btw.)  These tales are told within a frame story related by Scheherazade, a woman providing a cliff-hanger night-by-night narrative intended to delay the plans of her newly wed husband, who intends to execute her after the wedding night.  (We hear a bit of Rimsky-Korsakov's 1888 symphonic suite Scheherazade along the way).
After reviewing the evolution of these Arabian Nights stories from original oral forms (which were more often Persian, Indian, and Greek than Arab, actually), we have a look at some surprising misunderstandings about the story of Aladdin, which, like the stories of Sinbad, and Ali Baba, were not even part of the first collection of these tales assembled.
Jinn are a separate race, created between men and the angels. They are not immortal, and live in an invisible society organized like our own with similar social orders, marriages, and offspring (though sometimes humans are taken as marriage partners also).  They are not necessarily good or evil, choosing their own path, which may include following the Muslim faith, as the Qur'an speaks of the Prophet preaching to this race of being.  They may also follow other faiths as Christian, Jewish, and Zoroastrian jinn are also sometimes mentioned.
We spend some time looking at how their appearance has been described in literature, though no particularly definitive description emerges, as they are constant shapeshifters.  They may appear simply as shadows or whirlwinds, but more often seem to take human form, albeit, often that of a human hybridized with various animals features (horns are common).  Frequently, they may also simply take the form of animals, particularly dogs, and snakes. We hear some interesting anecdotes in this regard, illustrating the reverential treatment animals sometimes receive lest they reveal themselves to be dangerous jinn in disguise.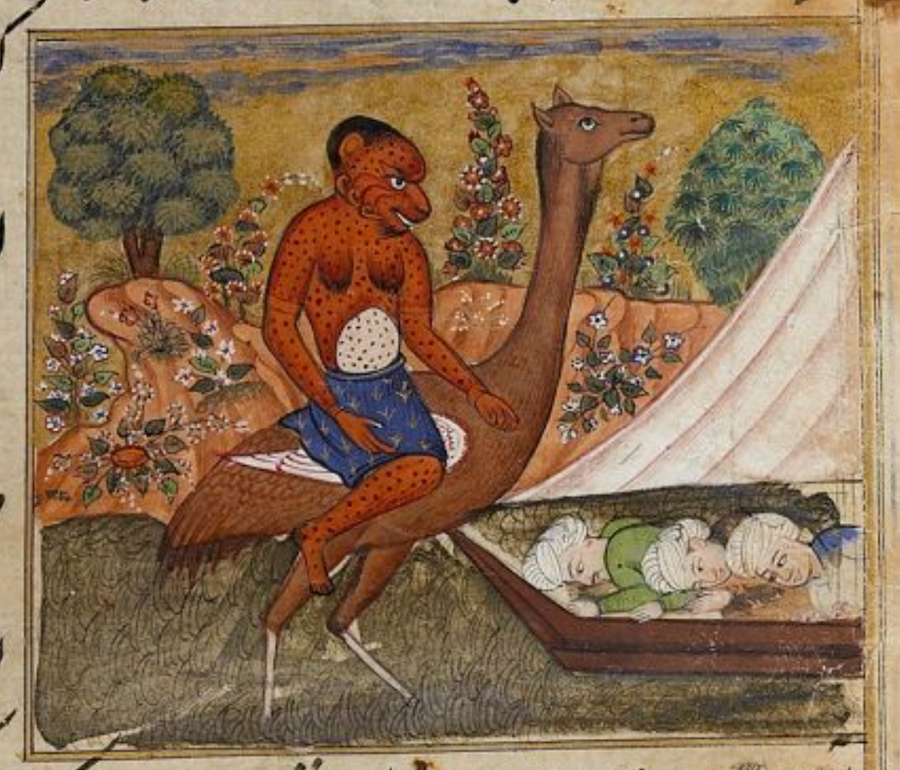 While their theoretical home is Mount Qaf-Kuh, the sort of Mt. Olympus of Islamic mythology, jinn obviously do not confine themselves to this location and can be found nearly anywhere man ventures. Some locations, such as abandoned homes, cemeteries, and ruins are obvious, but others such as certain mosques and marketplaces also are mentioned.
More obvious than where you might encounter a jinn is when you might do so.  Their nocturnal nature is widely agreed upon, and just as certain treatments of animals is ill-advised for risk of offending the jinn, we hear of a number of actions that should not be performed by night for similar reasons.
Along the way, we learn how iron and salt may be used to repel the jinn, favorite foods of the jinn, how shooting stars relate to the jinn's propensity to eavesdrop, and hear an interesting tale of a jinn-human marriage from Edvard Westermarck, a Finnish scholar who spent a great deal of time in Morocco.
The jinn, we learn, may be sought out for their advice, thanks to their supernatural knowledge of things seen and unseen, and can be summoned for this purpose (or to achieve other ends) by skilled magicians.  We even hear in the Qur'an of Mohammed invoking the jinn to perform a miracle on the modern site of the Mosque of the Jinn in Mecca.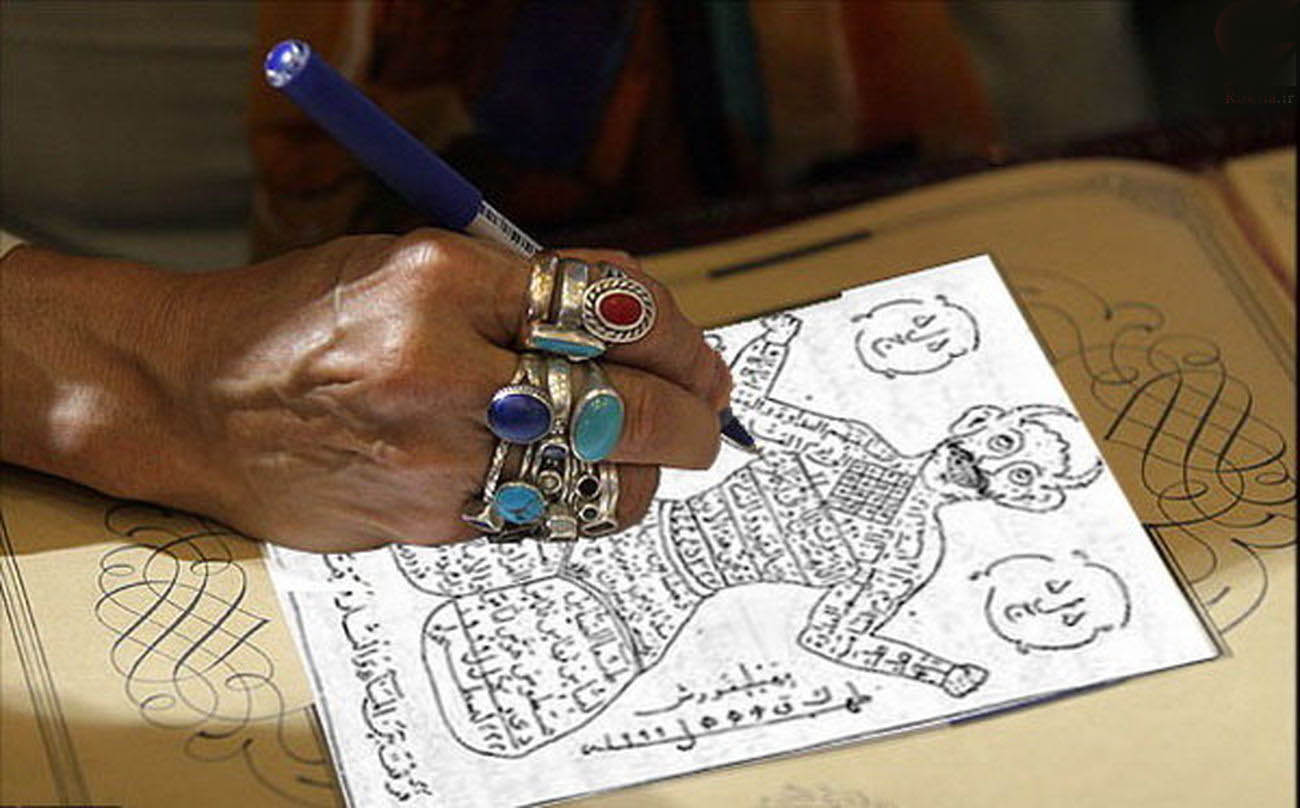 The different types of jinn are briefly discussed, though clear taxonomies for these (or other purely folkloric beings) is always hard to pin down.  A commonly mentioned type is the ifrit, a particularly strong and cunning, and the marid, who is particularly immense.  Other creatures — which may or may not be jinn —  are the fiery samum, seductive female si'lat, and the notorious graveyard ghoul.
Decidedly evil beings like these would belong to a subclass of jinn called the shayatin (singular shaitan) related to the West's "Satan."  While Shaitan may be used to designate the Devil or the chief embodiment of evil in Islam, a closer match to Lucifer would be Iblis.
According to most accounts Iblis is a jinn embraced by the angels as one of their own, but then cast from heaven to become the tempter of mankind and father of seven jinn kingdoms.  In hearing a bit more about Iblis, we also have a look at how jinn fit into the Islamic creation myths: how they were created of fire, how they rebelled against God, were defeated and scattered to earth's hidden corners. We also hear an amusing legend explaining why Iblis has one eye, and where one might go about finding a jinn egg for sale.
Our next topic is King Solomon — more the King Solomon of Talmudic and Islamic legend, than the more traditional Old Testament figure.  In a number of tales from the early Middle Ages, shared by both Jewish and Muslim cultures, Solomon's legendary wisdom comes, in part, from his magical mastery over the jinn or demons.  This power is provided him by a ring known as The Seal of Solomon.  Using this ring, he also compels them to construct the First Temple in Jerusalem.
A side story within this Temple legend regards a magic tool that is employed in this cutting of stones for the temple, the shamir, which oddly may either be a stone that can cut jewels and other stones, or… a fantastic stone-cutting worm.  We also hear a couple legends of how one of the chief jinn obtained this ring from the king after the Temple was constructed, and the mischief and just rewards following.
Jinn possession and exorcism ("eviction") is also discussed, as are the activities of certain Sufi brotherhoods in Morocco.  Through ecstatic dance and music, members of the Hamadsha and the Aisawa brotherhoods are said to manipulate the powers of the jinn for good, but are perhaps more notorious for their demonstrations of supernatural empowerment that once featured rites of self-mutilation and other shocking acts.
Possession by the jinn is also subject a few noteworthy horror films that may interest listeners.  A critics' favorite is 2016's Under the Shadow from Persian director Babak Anvari, a story examining supernatural encounters with the jinn within the historical setting of the Iranian revolution.  Horror fans, however, may be more dazzled by the visual gymnastics of Turkish director Hasan Karacadag work.  His horror films have been huge box office successes in Turkey and are marketed using the title of his breakout film, Dabbe, a reference to a figure wandering the earth in the Last Days — sometimes stylized as "D@bbe".
Dabbe 3, 5, and Dabbe 6 have recently been made available online with English subtitles and well worth checking out if you're interested in Eastern Folk Horror.