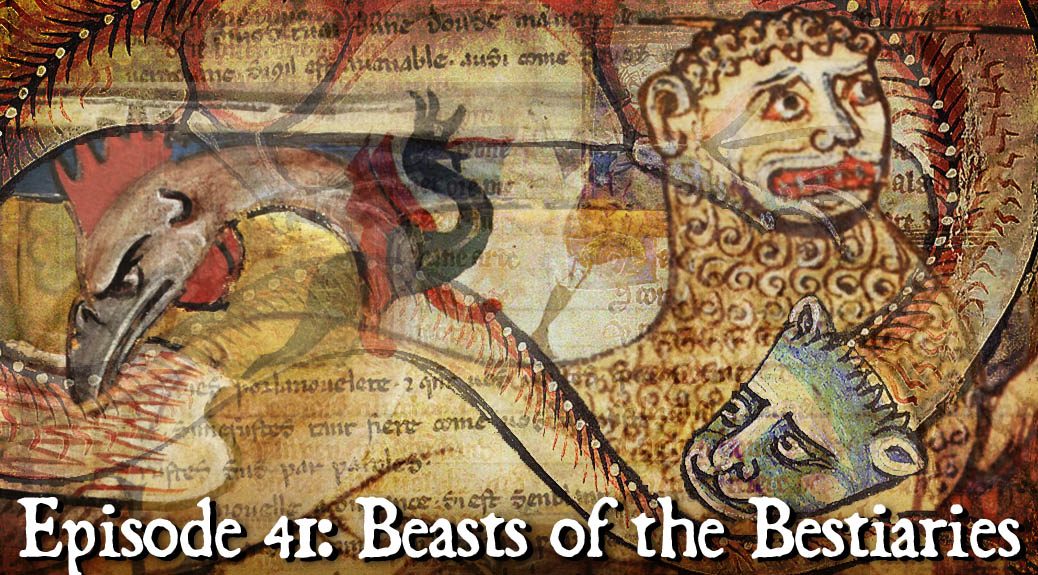 Podcast: Play in new window | Download (Duration: 43:46 — 50.1MB)
Subscribe: Apple Podcasts | Google Podcasts | Spotify | Android | Stitcher | Podchaser | Email | RSS | More
The bestiaries of the Middle Ages and Renaissance were books describing animals (some recognizable and others fantastic) in terms borrowed from classical texts and framed by Christian teachings.  In this episode, we examine a few of the stranger beasts and strange customs and beliefs associated with them.
Here's a brief look at the animals we'll be examing ("brief" because I'm rushing to get this episode out on the last day of the month).
Our first is the bonocan, a bull-like creature either from Macedonia or somewhere in Asia, depending on your source.  Its memorable trait is the very peculiar means of self-defense it employs.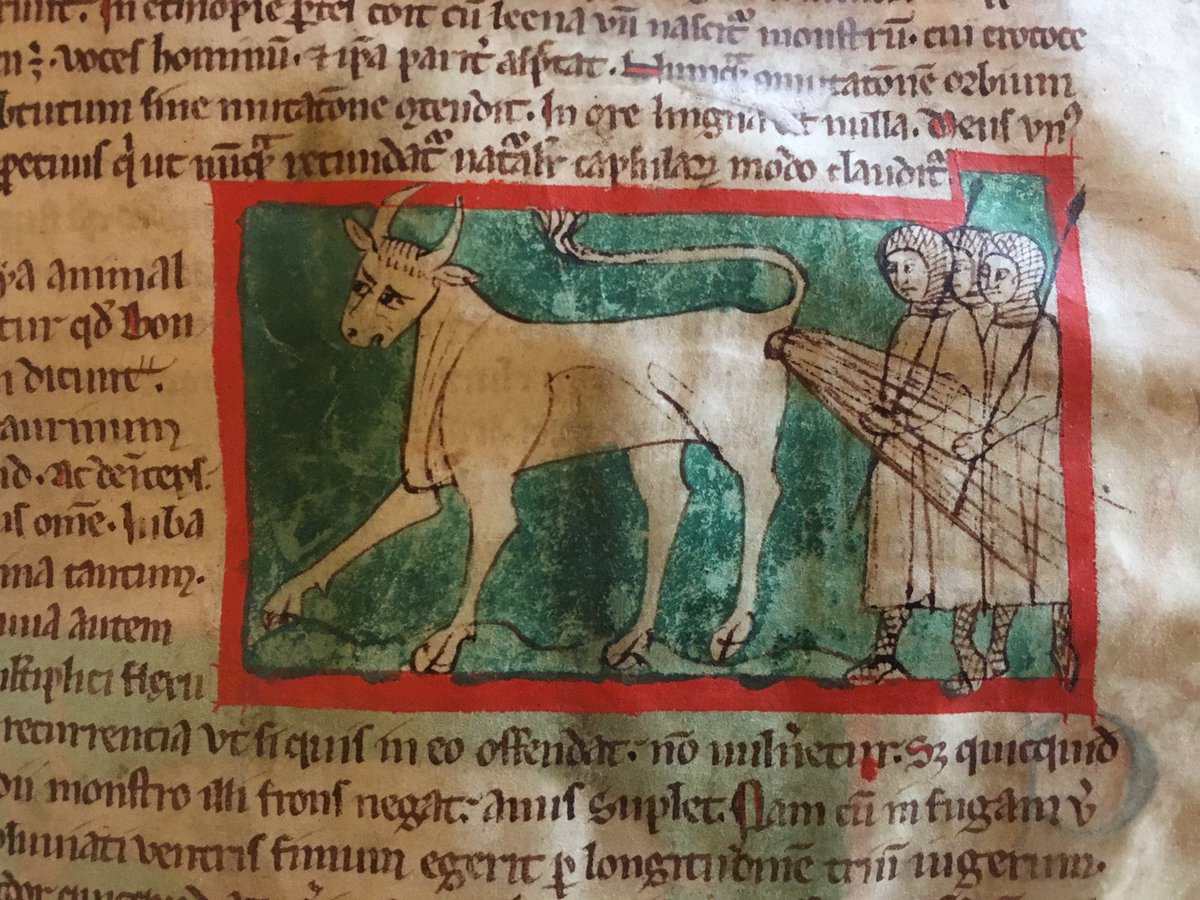 Next, the manticore,  a tiger-like beast from India that comes with a few extra bells and whistles like a tail that shoots quills. In the later Middle Ages it became muddled with the mantyger, a creature with a tiger's body and man's head.
The leucrota and the crocota were similar or identical creatures with terrifying ear-to-ear mouths equipped with a bony ridge in place of teeth.  Their tendency to dig up corpses and vocalize like humans suggests they were inspired by the hyena.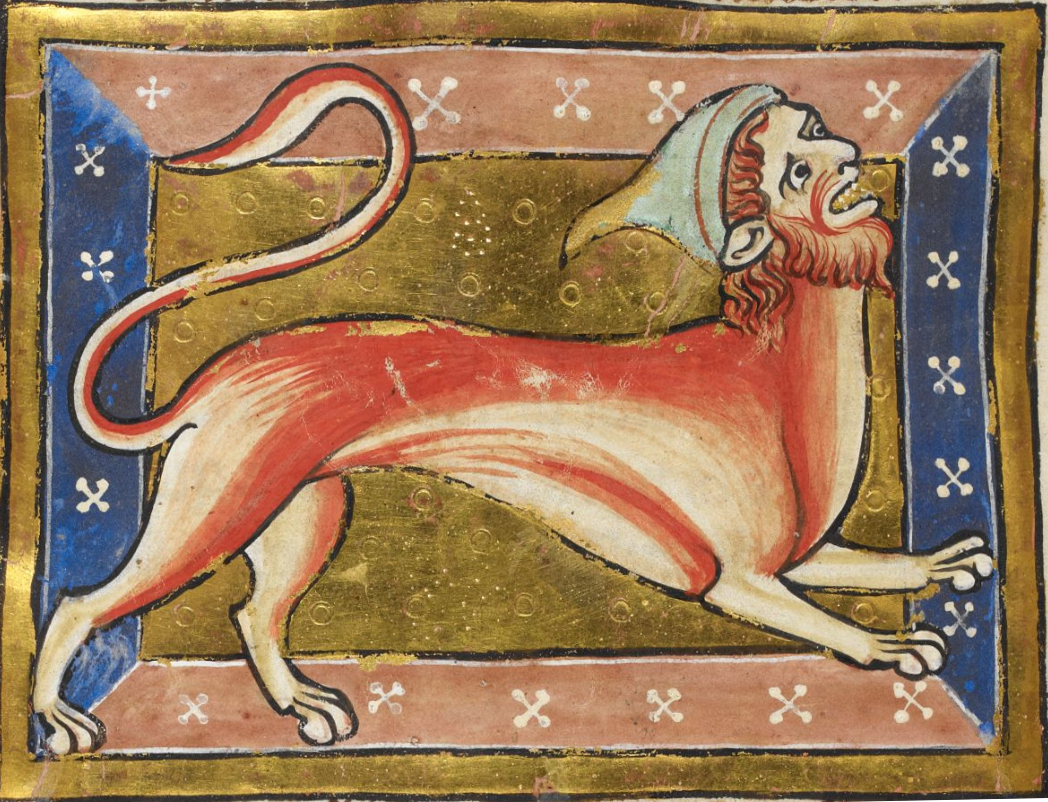 The basilisk is a sort of serpent, whose name comes from the Greek for "little king."  It was small (originally) but deadly.  Not only was it venomous, but its breath, and even its glance could kill. Mrs. Karswell relates three legends of basilisks as threats to medieval towns.
Vienna's basilisk tale involves an baker's apprentice who must defeat the monster residing in the depths of a well in order to win the hand of his beloved.
The legendary basilisk of Warsaw was discovered haunting the cellar of a ruined building and was so fearsome only a convict facing death dared face it.  We also look at the basilisk as the heraldic symbol of Basel, a city which destroyed the basilisk that menaced it while still in the egg (in one of the strangest incidents in the history of man's relationship with poultry).
We also look at a tale from Cumbria, England, in which a cockatrice — a creature similar to the basilisk but with the head of a rooster — menaces a church.
Our episode closes with a look at the salamander of the bestiaries, a creature produces a deadly poison that vies with that of the basilisk, and one believed to withstand fire. While the latter is purely fictitous (though believed in some places up into the 19th century), the former is based on an actual poison (salamandrine) exuded through the skin of certain species.  We'll examine how this poison relates to a peculiar urban legend originating in Slovenia and hear some accounts of Victorian "human salamanders," that is, sideshow performers said to be impervious to fire.