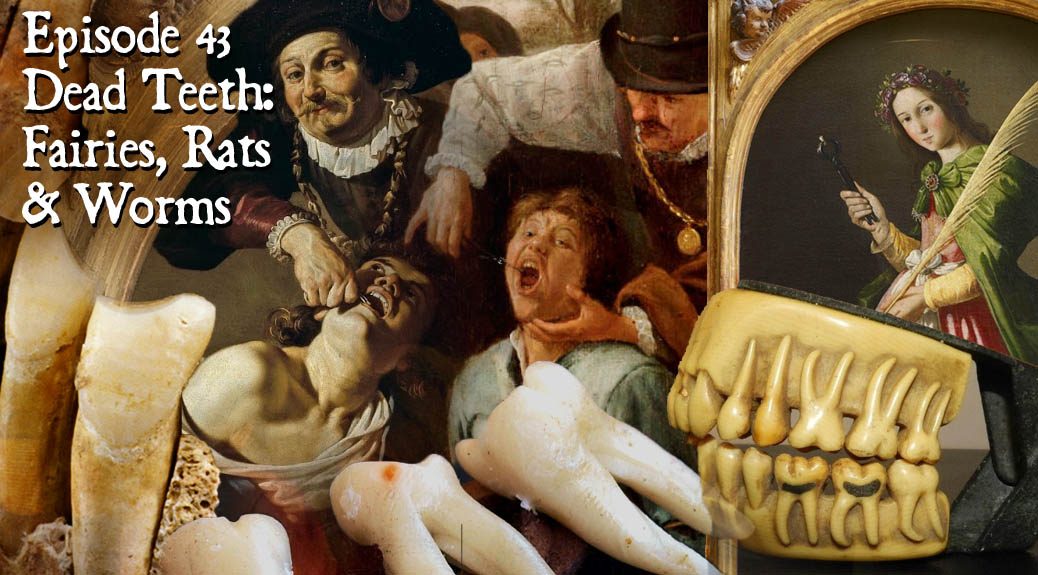 Dead Teeth: Fairies, Rats, and Worms
Podcast: Play in new window | Download (Duration: 42:06 — 48.2MB)
Subscribe: Apple Podcasts | Google Podcasts | Spotify | Android | Stitcher | Podchaser | Email | RSS | More
Explore the folklore of the Tooth Fairy and teeth, particularly dead teeth — those lost by children or adults, and those removed from skulls.
We open with a brief look at the Tooth Fairy as inspiration for horror films, hearing a bit about (and a montage of clips from) Darkness Falls (2003), The Tooth Fairy (2006), The Haunting of Helena (2013), and Tooth Fairy (2019).  Though none of these films were particularly successful with critics or audiences, there would seem to be some worthwhile horror inherent in the childhood ritual — psychological vulnerabilities related to the child's trust of parents, nighttime intruders, and the death of a body part.  We also hear a bit about the SyFy Channel's 2016 show Candle Cove (Season 1 of Channel Zero), which also featured a Tooth- Fairy-inspired monster.  We hear a creepy snippet of a secret 1970s kid show featured in Candle Cove as a tool of and deadly mind manipulation.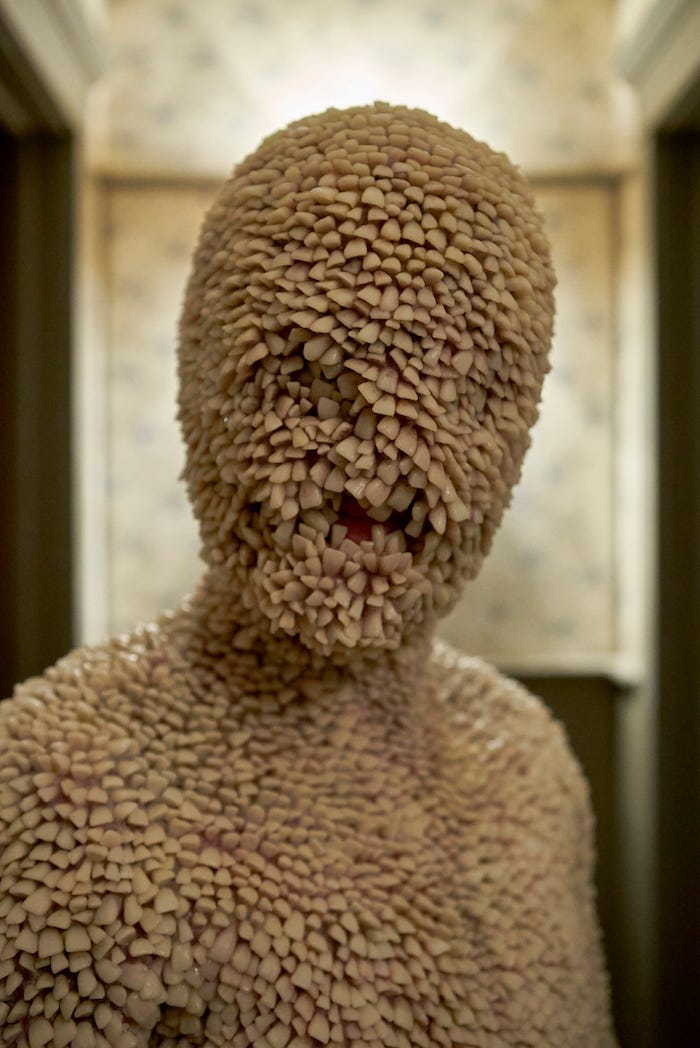 Surprisingly perhaps, the Tooth Fairy known by Americans has little in way of direct historical connection to older, European customs.  It first appears in print no earlier than 1908.  We have a look at some of these earliest references, including an article with an unusual connection to a sensational murder case as well as some references to curious  also-ran fairy characters that were once used in American parenting.  (At the top of this section we hear a clip from Tom Glazer's 1953 song, "Willie Had a Little Tooth.")
Often suggested as an ancient precedent for Tooth-Fairy customs is the Norse and Icelandic concept of the tannfé ("tooth gift" or "tooth-fee") mentioned all the way back in the medieval Eddas.  A quick look into the matter, however, reveals some major differences: there is no magical fairy or transformation of the lost tooth into money,  nor was the gift given on the occasion of losing a tooth, but when the child cuts his first tooth.
A more direct precedent can be found in widespread customs that have a rat or mouse taking away the child's lost tooth or that tooth being ritualistically offered to a mouse.  The most prominent representation of this is probably in Spanish-speaking countries, where El Ratón Perez, Perez the Mouse, plays the role, but there are also rats and mice exchanging teeth in Italy, Germany, Scotland, Slovenia, Lithuania and France, and Hungary.  In many 0f these countries, it's not money provided in exchange for the child's tooth but the blessing of stronger adult tooth.
We then switch gears to look at some alternative customs for the disposition of the shed milk tooth (also those lost by adults).  One particularly popular in Britain is to cast the tooth into a fire.  One reason for doing this is to prevent the tooth from being used in witchcraft spells against the person whose it.  Mrs. Karswell reads us some passages on this along with a couple on the teeth from graveyard skulls used by the merely superstitious who are not practitioners of the craft.
Not so dissimilar to witchcraft was medieval dentistry.  We hear several horrifying treatments from historic texts along with a bit on the presumptive source of dental problems in this period: the dreaded tooth worm.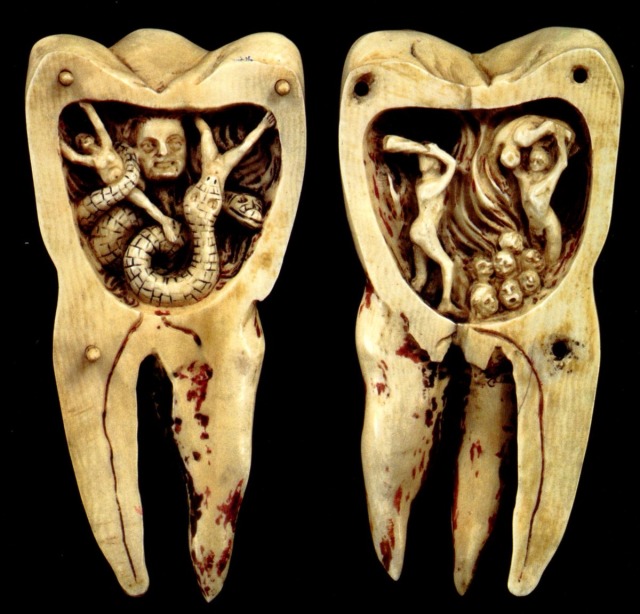 If neither dentistry or witchcraft proved helpful there was always religion.  The saint to whom prayers would be directed here would be St. Apollonia, one of group of virgins put to death during an anti-Christian uprising in 2nd-century Alexandria.  Her connection to this concern arises from her teeth being knocked out during her martyrdom.  We also hear a passage describing the mania for carrying alleged teeth of the saint in Britain during the time of Henry VI.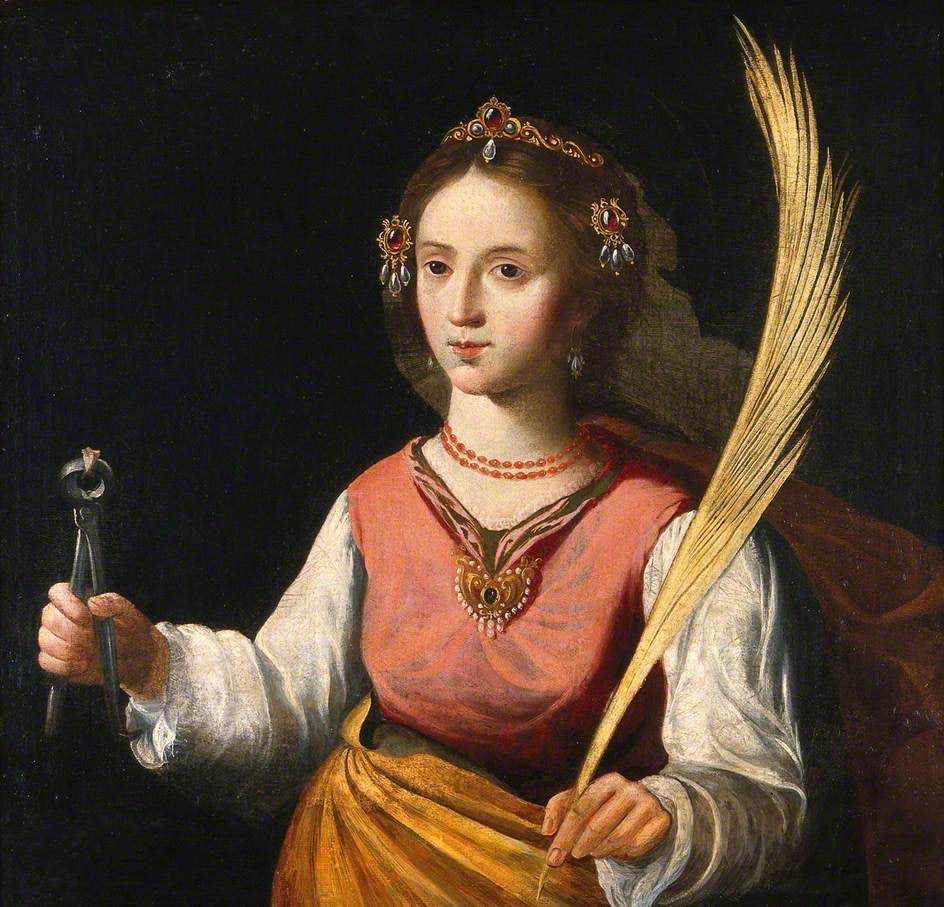 Rounding out our exploration religion and human teeth is brief look at the discovery in Mexico City of human teeth discovered in an 18th-century life-size wooden sculpture dubbed "The Lord of Patience."
We follow this with a look a more pragmatic use of human teeeth, namely "Waterloo Teeth," or the teeth of fallen soldiers and others (including those obtained by grave-robbers) once used to make dentures.
Our episode closes with topic of teeth and the Final Judgement, namely, the pre-Reformation Christian teaching that held that lost teeth must be saved in order to accompany the body to its destiny after death.  A bizarre news story from 2014 considers the horrifying consequences in which this superstition is mocked.