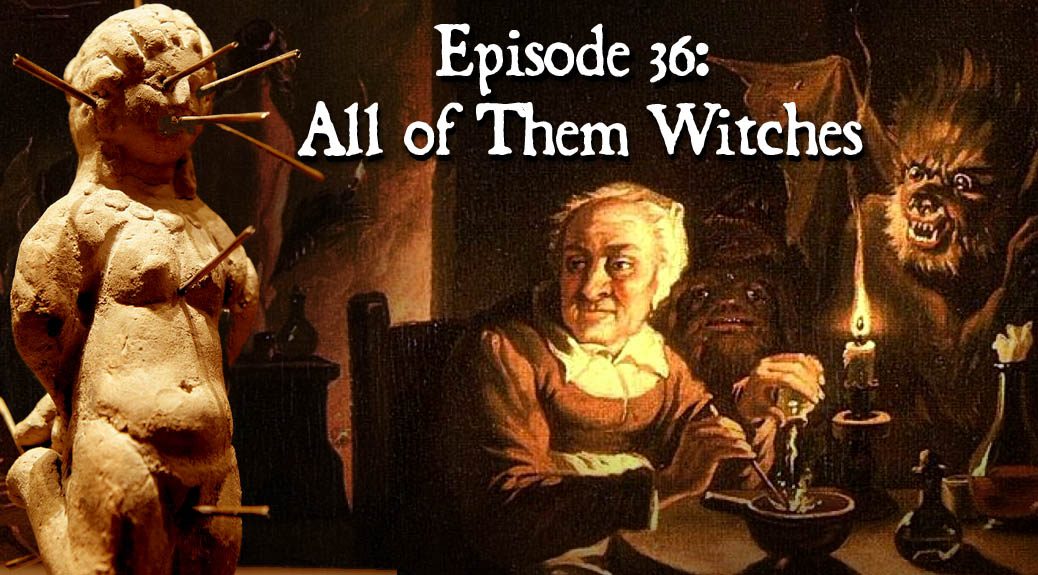 Podcast: Play in new window | Download (Duration: 44:32 — 40.8MB)
Subscribe: Apple Podcasts | Google Podcasts | Spotify | Android | Stitcher | Podchaser | Email | RSS | More
This Halloween we have five stories of witches from all the way back to around 1125AD to the 1960s. Some of them are actual historic personage, some seem more purely folkloric.
It's a somewhat longer episode for which I"ll provide somewhat shorter show notes here.  So, I won't going into the details of each story, but just give a sketch of who we'll be talking about.  Aside from all being witches, you'll see another common thread; four of the five kept avian familiars: roosters, blackbirds, and jackdaws.
The first a 19th-century witch who's become a part of Connecticut folklore — Hannah Cranna.  Though there are stories of her cursing neighbors from her life, the most interesting part of her tale begins with the details of her burial details, with which she was particularly obsessed.  The segment begins with a snippet of Mark Fry's bit of folk-psychedelia "The Witch" — only because it happens to dovetail nicely with a story of Hannah told on an urban legends web page.
Our second witch was also very particular about her burial, but with a more clear-cut rationale: she wanted to prevent the Devil from claiming her soul (and body, it seems) upon her death. This is the so-called "Witch of Berkeley," who story was first told by English chronicler William of Malmesbury all the way back in 1125.  It's in his Chronicle of the Kings of England (as a sort of digression).
Our third witch, Molly Leigh, is also from England — North Staffordshire, where she died in 1746. Though she fit the witchy archetype of having both a quarrelsome personality and undesirable physiognomy, she was never tried or executed for witchcraft, despite some rumors of minor mischief, such as bewitching beers down at the pub.  Her story, like Hannah Cranna's, focuses more on her afterlife exploits.  We play a snippet of a recent horror movie Molly Crows, which uses Leigh's story as a springboard.
The fourth witch is our most modern: Sibyl Leek, who appeared on the scene in the 1960s during a wave of pop-culture.  While she claimed to be a descendant of Molly Leigh, her life seems to have been much more pleasant, centering primarily upon how to best position herself in the media spotlight.
Our final story is is quite an oddity.  The story of the self-confessed 17th-century witch, Major Thomas Weir, who became a fixture in legends of old Edinburgh.  This is our longest segment, and I'll leave the rest for you to enjoy as Mrs. Karswell's reads from our sources, ad the details as are suitably shocking.